When it comes to wallpaper, you may have heard that the material has gotten a bit of a bad reputation compared to paint. However, wall coverings are not what they used to be; where wallpaper from decades ago may have featured adhesive that was difficult to remove and patterns that feel dated and gaudy today, modern wall coverings offer a wide range of options that could be the perfect fit for your interior space.
Reasons To Get A Custom Wall Covering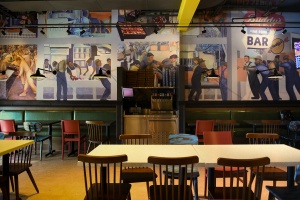 If you are considering breathing some new life into your indoors, here are some reasons not to forget about custom wall coverings.
Wall Coverings Are Low Maintenance
One of the best things about modern, custom wall coverings is that they really do not require very much maintenance. Where paint may chip, crack, fade or appear uneven if it was not properly applied, wall coverings are resilient and uniform. This can lend a sense of order and good craftsmanship to your space, especially if the material was installed by a professional. In decades past, wallpaper used to be made of paper, but these days, you will find that the exterior side of your wall coverings is usually made of vinyl or another durable material. Vinyl rebuffs stains and scratches, keeping your coverings fresh and long-lasting. If a stain or spill does happen to splash onto your modern wallpaper, it is easily washable as well—even more so than high gloss paint in many cases.
Wallpaper Offers Options That Paint Does Not
When it comes to style and aesthetic appeal, some rooms simply cannot beat the visual charm of wall coverings. While some homes or buildings do benefit from subtle, light patterning or even solid colors, many rooms can be invigorated with a splash of texture or artistic flair. Wallpaper offers a myriad of options that paint cannot achieve, such as complex abstract designs, patterns and floral prints.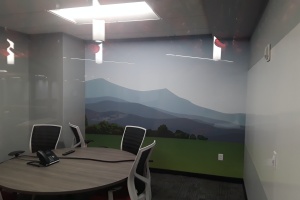 In fact, some types of wall coverings and designs can feel like art unto themselves, making them great as a visual centerpiece or focal point in a room. Consider covering just one wall with a custom wall covering that is made just for you and the aesthetic of your space to serve as an accent wall. This may take inspiration from furniture in the room, artwork on display or any of a variety of other possibilities that express your style. This can also serve as a powerful tool for branding if you are a company, as custom wall coverings can capture your logo and coloration perfectly.
Wall Coverings Are Simple To Change, Stylize And Feature
As mentioned previously, wallpaper used to be made with a powerful adhesive that meant that once you applied the wall covering to your surfaces, you were in for a tough time getting it back off without damage. The good news is that nowadays, modern custom wall coverings have come a long way, and advancements in the adhesive used mean that your choice does not need to be forever. If you choose to paint a room instead, you may be faced with laying down primer, a color to cover your previous color and your new color, possibly in multiple layers. This can lead to a lot of work. Wall coverings, on the other hand, have become much simpler than ever to pull down and replace without damage. Of course, getting a professional to do the job will result in the best outcome.
Also, do not forget the power of wallpaper in nooks and crannies that you would like to highlight. The bold patterning and artistic feel of many types of wallpaper can turn the inside of a cabinet or an under-stair nook into an attractive piece of real estate. These areas are more limited in their paint selections, since the small space prevents many types of stylizing such as texturing or adding additional paint designs.
Trust The Expert Custom Wall Covering Pros For The Perfect Wallpaper
Whether you are evaluating your options for covering your interior spaces or you are ready to create and choose from custom wall covering designs, be sure to put your trust in a reliable company that produces long-lasting materials. At Tree Towns, we take pride in assisting people with achieving their artistic vision and bringing that into reality before their guests' and viewers' eyes. We can design your ideal surface or simply help you convert your print-ready file into the reality that you have been envisioning. Reach out to discuss your project goals and learn more about how Tree Towns can help you to achieve it. Contact Tree Towns Digital Decor today!