Oftentimes finishing up your documents involved laminating services. With this finishing touch, your product will look professional and be protected.
What Is Laminating?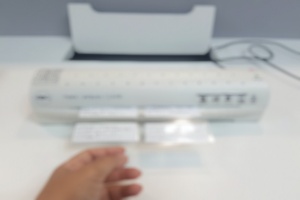 Laminating is the process of applying a film to either one side or both sides of a printed document. Lamination serves several purposes. Lamination adds matte, luster, gloss or texture to a printed product which controls light reflection. It gives stability to the sheet, allowing it to be more durable and even stand upright. Lamination helps protect sheets that are handled frequently or may encounter moist environments. Many laminated documents are water resistant, tear proof, tamper proof and U.V. protected. Laminates can also be used as a wet-wipe or dry-wipe writing surface.
Lamination is often a necessary addition to various products including posters, maps, membership cards, calendars, food labels, menus, signs, price tags, ID cards, point-of-sale materials, business cards, charts, photographs, placemats, badges, covers, certificates, and many more.
Thermal Lamination
The laminate usually consists of 2 plies with each ply made up of an overlaminate film and an adhesive, which is dry and not tacky to the touch. A heat source and pressure are required during the lamination process. The document is placed between the two plies of the laminate film and then sent through equipment where the dry adhesive is made tacky by heat and is pressed onto the document under high pressure. After cooling, the adhesive solidifies and provides a permanent bond between the document and laminate film.
Cold Lamination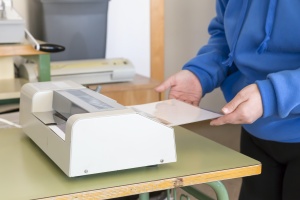 Cold lamination is a process in which only one side of a document is laminated. This laminating process is required when the ink and/or paper used for a document is too sensitive to the heat required with thermal lamination. The film used for cold lamination is much more costly than for thermal lamination. We stock matte and gloss laminates up to 79″ wide.
Pressure Sensitive Lamination (For Wide Format)
Our machines are capable of handling from business card size up to 80″ wide materials. Semi glare, gloss, and textured laminate available.
Semi Glare
Luster UV
Matte Velvet UV
Gloss
Polyester UV
Dry Wipe
Textured (Rigid Vinyl and Polycarbonate)
5 mil UV Polycarbonate
15 mil UV Polycarbonate
Thermal Lamination (for paper or wide format)
1 to 250,000 pieces, 2 sided or 1 sided, up to 50″ wide, high speed auto trimmed up to 30″ wide.
Finish Your Documents With Tree Towns Laminating Services
Contact Tree Towns for all your document services, including printing scanning and laminating services. Reach out to them by phone at 630-931-2229 or though their online contact form.