Acoustic panels can reduce unwanted reflected sound. Whether you are a restaurant owner that wants to create a quieter and more pleasant experience for guests or a homeowner who enjoys the design and practical benefits of them, acoustic art panels are the perfect solution for you.
What Are Acoustic Art Panels?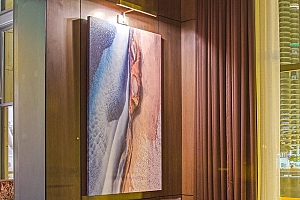 Acoustic art panels, also called sound panels, acoustic boards, and acoustic baffles, are attractive sound-absorbing panels that are strategically positioned in your home or office to reduce unwanted reflected sound (reverberation).
Tree Towns offers acoustic art panels in sizes up to 54" by 114" and noise reduction coefficient ratings of up to 1.05. Your panels can be fabricated in a variety of ways as well, including as Stretch Canvas Styles, in SEG Frames, or full Wall and Ceiling Finishes. Class A fire-rated solutions are also available.
What Are The Benefits Of Acoustic Art Panels?
The primary benefits of acoustic art panels from Tree Towns Digital Décor Inc. are a reduction in unwanted reflected sound, an improved aesthetic appeal for your home or commercial office, and the ability to customize your panel the way you desire.
Reduce Unwanted Reflected Sound
Reflected sound reduction is an often overlooked benefit. This is beneficial for residential homes, but it is especially beneficial in the workplace. For example, a restaurant owner can help reduce reverberation and allow for a more relaxed environment.
Improve The Decor For Residential And Commercial Properties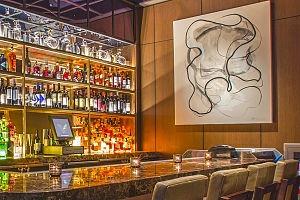 Both residential and commercial properties can benefit from the aesthetic appeal that acoustic panels. They are a form of wall decor that also provides a practical benefit, and you can make your home or commercial workspace more appealing with acoustic art panels.
Customize Your Acoustic Art Panels The Way You Desire
Our production team can customize your acoustic panels according to the exact color, design style, and measurements you need and desire. Our team prides itself in friendly communication and does everything possible to ensure you are satisfied with your panels long-term.
What Type of Acoustic Art Panels Does Tree Towns Offer?
There are a range of acoustic art panel types that we can produce here at Tree Towns. We personalize your order to ensure you receive exactly what you need and desire for optimal reverberation reduction benefits and aesthetic appeal. The types of acoustic art panels we offer include but are not limited to: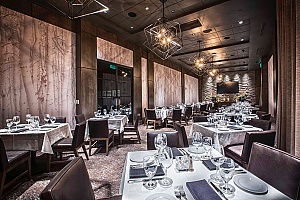 Framed art
Geometric shapes
Home office
Hospitality
Inspiration collage
Inspiration framed
Residential
School decor
Stretched art
We offer a range of residential types, including custom shapes, mixed sizes, framed, and wall coverings.
Improve Your Home Or Work Space With Acoustic Art Panels
Tree Towns can help you. Our dedicated production team can help you decide on the appropriate size and design for your acoustic art panels. Call us at 630-931-2229 or send us a message today to learn more and to start the design process.