Transform your interiors with our digital wall coverings! Venture into a world where walls become vivid canvases, reflecting your distinct style and essence. With state-of-the-art technology, we custom design wall coverings that animate spaces. From detailed patterns to stunning landscapes, our service turns ordinary walls into extraordinary art pieces. Explore, envision, and revolutionize your space. Experience the next level of interior design with Tree Towns Digital Decor Inc.
What Are Digital Wall Coverings?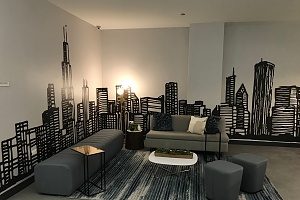 Digital wall coverings are created using advanced printing technology to create detailed, custom designs or patterns on wall surfaces. These coverings can transform the look and feel of a room by adding unique visual elements, textures, and colors to the walls.
These high-quality prints have gained popularity in interior design and architecture due to their ability to transform spaces and add a personalized touch. They provide a versatile and visually appealing alternative to traditional paint and wallpaper, allowing for greater creativity and flexibility in interior decor.
Common Types of Digital Wall Coverings
At Tree Towns, we specialize in crafting unique wall coverings that cater to your individual style and needs, including:
Custom Wall Coverings
From serene natural landscapes to vibrant cityscapes, or even a cherished family photo, our custom wall coverings transform your ideas into stunning, bespoke artwork for any room.
See Custom Wall Covering Options
Textured Wallpapers
Texture can dramatically transform the ambiance of a room. Our textured wall coverings offer a tactile experience, providing depth and character to your walls. From sleek metallic finishes to rustic brick textures, we have a wide variety of options to choose from.
See Texture Wall Covering Options
Acrylic Wall Panels
For those seeking a truly immersive and eye-catching effect, our acrylic wall panels create a stunning visual impact. These panels can add depth and dimension to any space, turning your walls into a captivating focal point.
Custom Patterns and Designs
Unleash your creativity with our custom patterns and designs. Whether you have a specific idea in mind or need help brainstorming, our team of designers can work closely with you to craft a one-of-a-kind design that perfectly suits your space.
See Pattern Wall Covering Options
What Are The Benefits of Choosing Digital Wall Coverings?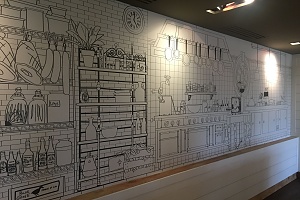 Choosing digital wall coverings from Tree Towns comes with a host of benefits including:
Unlimited Design Possibilities
Break free from the constraints of traditional wall decor. You can bring any design, image, or concept to life on your walls, ensuring a space that truly reflects your personality and style.
Durability and Longevity
Our wall coverings are crafted using premiere materials and advanced printing technology, ensuring they remain vibrant and beautiful for years to come. They are also easy to clean and maintain, making them a practical choice for both residential and commercial spaces.
Easy Installation
Our experienced installation team will have your wall coverings up in no time. We strive for efficiency without compromising on quality, so you can enjoy your newly transformed space sooner.
Contact Tree Towns To Start Designing
Ready to transform your space with custom digital wall coverings? Contact Tree Towns today to begin the journey of bringing your unique vision to life. Our team of experts is eager to assist you in choosing the perfect wall coverings that will elevate the look and feel of your business.
Let us turn your walls into works of art. Contact us now to schedule a consultation or call us at 630-931-2229 to get started on your digital wall-covering project. Your dream space is just a call away!