While copying and printing seems like a simple task, many times it can lead to frustration. Working with an on-site printing and copying service company will ensure that your product will come out looking professional and presentable.
Why Choose Our On-Site Services?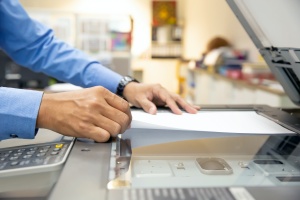 How working with Tree Towns can offer so much more than our competition.
No Capital Investment
Tree Towns Reprographics acquires and manages all of the equipment. There is no capital outlay required from the customer. This "off balance sheet" acquisition approach allows our customers to utilize capital and credit lines for other technologies.
Eliminates Technology Obsolescence
Unlike leasing or purchasing, Tree Towns On-Site Services customers have the ability to upgrade to newer technologies effortlessly. Imaging prices are simply reestablished to reflect the new investment and current volumes.
Reduce Administrative Burden
Tree Towns will arrange all technical services, consumables and maintenance and will provide detailed project records so costs can be allocated appropriately.
Reduce Personnel Costs
The time consuming duties of inventory control, equipment acquisition, service and billing can affect costs. With Tree Towns On-Site, we handle these fundamental tasks, minimizing your "soft" costs.
Reproduction Cost Guarantee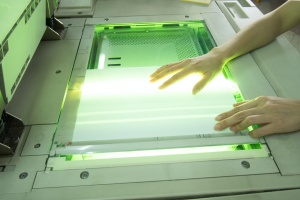 All Tree Towns Reprographics On-Site Service agreements are written with clearly specified pricing, allowing your customers to budget accurately. A variety of services can be incorporated into the agreement to accommodate the specific needs of your clients. Should your needs change, we can change to meet them.
Back-up Support
Tree Towns Reprographics assumes the responsibility of providing additional support in the event that your On-Site system goes down.
On-Site / Print Equipment & Services
Providing convenient Tree Towns Reprographics services, including CAD plotting, color copying, black & white copying and document management on location in your office. Think of On-Site Services as an extension of our office in your facility; we can professionally equip, and manage your own in-house Tree Towns reproduction facility, and offer flat fees per copy output so you need not purchase and maintain expensive equipment. Our team supports multiple installations in the Chicagoland area.
Narrow-Format Digital Copying
Tree Towns features the new Xerox Nuvera 120 and Canon 105 copiers for consistent image quality.
Digital on-demand publishing of specification sheets and booklets, from 8 1⁄2″ x 11″ up to 11″ x 17″.
Inline collating of tabs and color sheets.
Custom binding options available, including Acco, velo, spiral, screw post, or stitching.
We can print from PDF, TIFF, Microsoft Word, MS Publisher and Word Perfect files.
Document scanning service
Upload specification files to your electronic plan room
Large-Format B&W Printing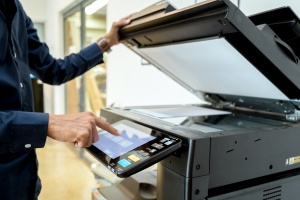 Multiple high-speed, high-resolution digital printers enable Tree Towns to handle the largest of projects quickly and easily.
Have your sets done in mirrored image, reduced or enlarged from 25% to 400%.
Popular media choices include white or colored bond paper, vellum or Mylar.
Staple or screw-post binding keeps finished sets of documents in order.
Wide Format Printing
Process of printing on larger paper sizes, typically ranging from 18 to 100 inches wide.
Commonly used for printing large-scale graphics, such as banners, posters, signs, and vehicle wraps.
Wide format printers utilize specialized inkjet technology to produce high-quality, vibrant prints with sharp details.
Handle a variety of materials, including vinyl, fabric, canvas, paper, and adhesive-backed films.
Offer a wide range of color options, including CMYK (cyan, magenta, yellow, and black) as well as additional ink sets for enhanced color accuracy.
Wide format printing allows for high-resolution output, ensuring crisp and clear images even at large sizes.
Provides versatility in terms of media selection, accommodating various thicknesses and finishes to meet specific requirements.
A Service Partnership With Your Firm
Working with Tree Towns not only makes your live more convenient, but you know your finished product will look exactly how you imagined them. Feel free to contact Tree Town today for assistance through this process by calling 630-931-2229 or reaching out through our online contact form.