Tree Towns Digital Décor's graphic design process for branded environmental graphics and other
interior décor finishes is a critical visual communication assistance that our clients rely on to achieve key messaging within interior finishes that resonates with target audiences. We feel it's all about producing visual assets that are eye‐catching, on‐brand and aligned with specific messaging goals. Our graphic design process detailed below is the basic format Tree Towns follows to bring our client's design ideas and concepts to life while serving their end goals.
Tree Towns Digital Décor's Graphic Design Process:
1 – Review The Creative Brief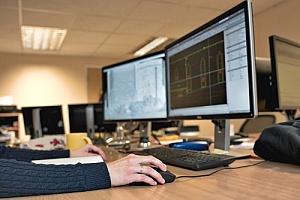 A creative brief can be as simple as a sketch or concept graphic, a design elevation, or a multi‐page design package outlining all the intended design and finishes for a prospective built environment. Whatever form it takes, and the details communicated, the design brief will clearly articulate the goals and interior and/or exterior elements needing to be met. Once available, the Tree Towns Digital Décor team will schedule a review session to ensure we fully understand what is required.
2 – Submit A Project Estimate
Submit a proposal for the required design services including a rough completion schedule that highlights critical milestones in the process.
3 – All Graphic Assets Are Gathered And Assessed
Tree Towns will review each element for licensing rights and image quality at the final scale. Image sources can be client-provided logos, company colors, brand related images, or slogans. Additional sources can include royalty free sites such as Shutterstock or Getty Images, Professional Photography, Original Art, Historical Photos, as well as client specific photographs.
4 – Develop And Refine The Graphic Design Concept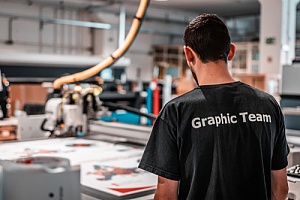 Based on the design brief and information gathered during the research process Tree Towns will build out the framework for what the graphic will ultimately look like. Preliminary soft proofs will be submitted for review and comment. This step will include preliminary mockups and soft proofs for review and comment.
5 – Create The Final Design
Once all stakeholders agree with the refined design Tree Towns will then proceed to create the final design. Again, soft proofs will be submitted for sign off. Small revisions may be required at this stage to fine tune the graphic into the final form.
6 – Produce Printed Samples And Strike‐offs For Final Approval
Printed strike‐offs are produced on the selected substrate and submitted for approval. Once signed off on, print files are saved and the graphic submitted for fabrication.
Tree Towns Is Ready To Help
Distribution of packages outside normal delivery zones. It can be done right from our Elmhurst office through regular pick-ups from major delivery services like FedEx, and UPS.
Special messenger service. We always have it available. Contact us for more info.
Managing multiple package delivery during your project's bidding phase. Our team of experienced professionals will take away the worries of printing, wrapping, addressing, shipping and tracking all your documents, thereby allowing you to concentrate on doing what you do best.
Shipping to any major city in the United States. All done via Tree Towns' ReproMAX Network. You give us the instructions and we'll have documents in your client's hands quickly and efficiently.
Contact Tree Towns
Tree Towns is ready to work with you through the whole design process. We see all of our designs through to installation. Reach out to Tree Towns today by phone at 630-931-2229 or contact us through our website.