From small images to large masterpieces, we have tremendous mounting capabilities. With our largest mounting machine at 84″ wide, we are able to meet any task.
Types Of Mounting Services
At Tree Towns we have a vide variety of options when it comes to mounting. Below are a few of the most common options of mounting finishes.
Foam Board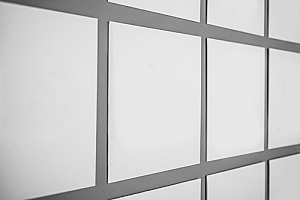 Foam board, (a.k.a. foam core) is made by adhering two sheets of paper to each side of a foam core. Foam board is lightweight, sturdy, and is best utilized for indoor mounting applications.
Cost-effective, and easy to trim and mount, foam board is an economical product for temporary use. For extra durability and improved performance, we laminate the backside of all foam board.
Note: 1/2″ Foam and 3/16″ pillow foam is not always in stock.
Gator Board
Gator board is a high-performance foam core encased in wood fiber. It is exceptionally rigid and flat, and can hold up well to wear and handling. It is more dent resistant and rigid than foam core, allowing for contour cutting. Gator board is available in white and black.
Note: 3/4″, 1″, 1 1/2″ and 2″ are also available, but not always in stock.
Ultra Board
Ultra Board is a durable dent-resistant board that is resistant to moisture, Ultra Board is perfect for allowing printed color to stand out.
Coroplast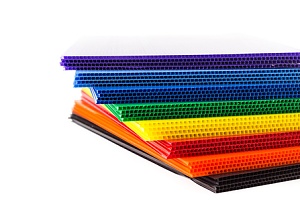 Coroplast is lightweight, rain resistant, and can be printed in bright, fade-resistant colors.
Sintra
Sintra is an affordable, durable, lightweight and moisture resistant board. It can be cut, routed, heat-formed or bonded. It's easily painted and can be used effectively with vinyl lettering and many adhesives. It's great for screen printing, models, displays, exhibit booths, indoor and outdoor signs, and photo mounting. It's also UV Resistant.
Note: Specialty colors and thicknesses available upon request.
Styrene
Styrene has high rigidity and impact strength which, combined with its excellent abrasion resistance, make it the ideal material for a wide variety of applications. It exhibits a high resistance to chemicals, moisture, and high temperatures and can be machined, drilled, or die-cut with relative ease.
Tempered Masonite
Tempered masonite is a hard-wearing hardboard used for building and signage. It's a tough, high-density product with superior strength and resistance to impact.
Cardboard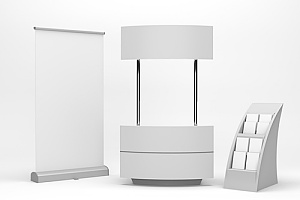 Heavy-duty paper based product good for temporary posters, point-of-purchase displays, and easel backed signs of all kinds.
Plexiglass / Polycarbonate
Acrylic displays are perfect for countertops, table tops, trade show tables or anywhere that you want to exhibit information. They are great for rear lit presentations and have a brilliant shine. Polished or beveled edges give the displays a great look.
More Board Available
For other custom boards please contact us for availability. Also ask us about match mounting, contour cutting and rounded corners.
Contact Tree Towns For Mounting Services
Tree Towns offers a variety of mounting options that can work for any project. We will work with you to find the right mounting option that fits your budget and project. Reach out today by phone at 630-931-2229 or through our website to learn more about our process.