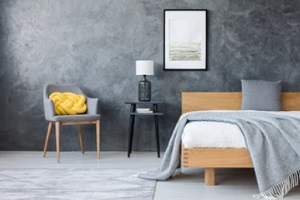 If you are like many people, your bedroom is likely your safe space. This is the room in your home where you (hopefully) rest the most to find yourself reenergized and free from the responsibilities that you have during the day. This means that you should spend some effort on making your bedroom the best that it can be so that it can serve its purpose well. While most people's initial thought on the notion of a bedroom revamp is a different mattress, crisp new sheets and some bigger pillows, do not forget to give some consideration to what your walls are (or are not!) doing for your sleeping quarters. Custom wall coverings are a simple and effective means of breathing new life into your bedroom and giving you the rest that you deserve. Below are a few things to consider when choosing wall coverings for bedrooms.
Select The Right Color For The Mood
The color of your bedroom could be doing more to impact your sleep than you realize. Bright colors are simple and easy to work with, such as off white, eggshell and gray, but they also reflect light very well and are suited for main rooms with windows. If your bedroom also has windows, consider a darker custom wall covering that will absorb light in the early morning hours so you get the full sleep allotment you had planned.
You need not go full black; rich colors such as mahogany, deep blue or even dark brown can all suit your home's style while simultaneously keeping your bedroom dim and easy to sleep in. With custom wall coverings, you can quickly and easily change the color of your walls and ceiling.
Consider Texture As Both Visually Pleasing And Useful
Another element that is easy to forget about when searching for design inspiration for your bedroom is that a custom wall covering design need not be limited to just color. Custom coverings can be created with texture as well, which can add depth and visual appeal to your bedroom walls.
In fact, many upscale hotels and other businesses will use this strategy to increase the feeling of deluxe quality in their rooms, and you can introduce that element into your own home by opting for walls that have some texture or patterning built into the physical surface.
However, another reason that texture in your wall coverings is valuable may be a feature that you did not realize: sound absorption. The small ridges and bumps in a textured wall will absorb more sound than a smooth surface like paint, which sound waves will bounce off of.
Textured wall coverings can help you sleep more soundly by keeping the environment quieter and more peaceful, and you can simultaneously achieve a visual effect that would be expensive and difficult (if not impossible) with other materials such as paint.
Try Patterns, But With Care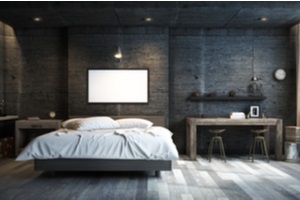 Even if the rest of your home is painted or covered in solid colors, this is no reason for your bedroom to follow suit. Many people have found patterning to be aesthetically pleasant and calming in the bedroom. Large floral prints and other interesting designs can thrive here, though be sure that you select or design a pattern that does not repeat too often in order to avoid a sense of clutter.
The human brain is highly attuned to patterns, and a close cluster of patterned wall coverings can induce anxiety or stress. However, gently flowing, spread out patterns can add visual interest and aid in relaxation. One of the benefits of custom wall coverings is that you can contribute whatever type of design you would like in order to truly make your bedroom area yours.
If flowers are not your thing, that is all right; whether your interest lies in model trains or stylized pomegranates, you can create a custom wall covering that makes you feel right at home and relaxed in your bedroom every day.
Trust The Experts To Supply The Highest-Quality Wall Coverings For Bedrooms
As you consider how to revitalize your bedroom to improve your sleep and boost its visual appeal, do not stop at redoing your mattress and sheets. Custom wall coverings can suit your needs in a variety of ways, from texture to color and patterns, so that you can realize a vision that is perfectly tailored to you.
Whether you would like some changes to the walls or want to spice up the ceiling that you spend time looking up at as you drift off each day, Tree Towns stands behind the quality of our custom wall coverings. We would be happy to help you bring your vision to life, whether you need help getting started or are ready to place an order. Reach out to learn more and begin the process of securing long-lasting custom coverings.