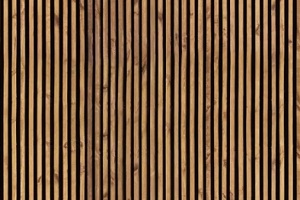 Interior design is meant to capture the interests and style of the homeowner, who gets to shape the tone and aesthetic of their space with furniture, art, and construction. However, the defining feature of any house is not the furniture or carpeting—it is the walls of the house itself.
There are plenty of daring colors to paint the walls in, but there is more potential for creativity and ambition in terralon wall coverings. Rather than decorating a wall with a single color augmented with works of art, the wall itself can be a work of art through the installation of wallpaper, wood paneling, or printed vinyl.
These wall coverings can have simple designs, intricate tessellations, and more. However, the benefits of wall coverings do not end with their visuals. With an option as versatile as the Terralon wall coverings made by DreamScape, there is textural potential, environmental sustainability, and perhaps most importantly, resistance to humidity.
Here is an overview of how expert installers can leverage Terralon to help you achieve your interior vision.
What Makes Terralon Wall Coverings Different?
Terralon is quickly becoming the gold standard in wall coverings. Terralon's main competitor, vinyl wallpaper made from PVC, is durable, but it lacks a few of Terralon's key features. Vinyl can be very heavy and might need reapplication over time. And while its thickness makes it long-lasting, it is vulnerable to the elements—especially moisture.
The climate is likely not the first thing that crosses your mind when thinking about the things that could destroy your wall coverings, but it is important to consider when making changes to interior design. With vinyl wall coverings, fluctuating temperatures could cause expansion or shrinkage.
The durability of vinyl makes it difficult for moisture to pass through, and when that moisture collects behind the wall covering, mold and mildew may start to grow. Terralon prevents these threats while maintaining all the essential elements of a wall covering.
Visual and Textural Flair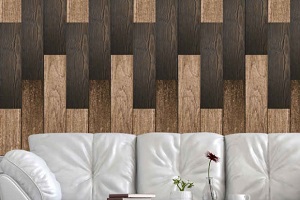 What separates wall coverings from house paint is their potential for visual stimulation and textural satisfaction. Terralon is highly receptive to all common inking and printing processes, which means that homeowners can create custom designs to fit the tone of their house. Additionally, Terralon ranges in texture from heavily textured to glossy smooth.
An Environmentally Healthy Way to Decorate
Homeowners do not usually consider the environmental impact of their interior designs—but doing so is important. DreamScape Terralon wall coverings are made from 31% recycled material—and so far, Terralon materials have repurposed and recycled an estimated 12 million plastic bottles.
Terralon's Impressive Resistance to Humidity
Perhaps the most impressive aspect of Terralon is its resistance to humidity that might otherwise cause warping or mold growth. While Terralon won't stop moisture from accumulating in areas where the wall coverings are not present, it can prevent moisture from building up in wall cavities and incubating mold.
The durability of vinyl makes it popular, but it will keep moisture in the air from diffusing through the house, trapping it to fester and promote mold growth. To combat this, DreamScape preemptively perforates its wall coverings so that moisture can escape. Terralon is light and breathable, allowing permeation and substantially decreasing the risk of mold and mildew.
The permeability of wall coverings is evaluated against a standard moisture transmission level defined by the Wall Covering Association. Their "Wet Cup Test" defines minimum suitable transmission at a level of 8. While DreamScape's perforated vinyl ranges from a score of 8 to as high as 15, Terralon scored an even higher 16.5.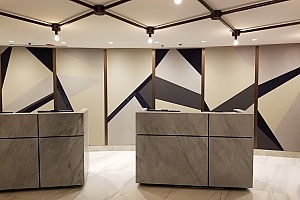 Terralon is so breathable that it can often be applied in rooms where humidity is inevitable, such as saunas or showers. When used in combination with antimicrobial adhesives and wall primers, Terralon can significantly reduce the risk of mold buildup.
It can be used strategically for exterior application, providing limited exposure and a moderate climate. Terralon can also be used to effectively decorate cabanas or pool houses with sufficient defense from sun and rain.
Decorate and Protect Your Home With Terralon
Terralon wall coverings allow homeowners to decorate their homes, turning them into artistically coherent residences. But they also consider the microscopic practical applications of a living space. A house is not just a canvas for an interior decorator, but a place people live in.
The experts at Tree Towns are proud to partner with DreamScape to supply high-quality Terralon wall coverings for a variety of uses; we have seen success when helping businesses ranging from water parks to dog washing stations. Contact Tree Towns to discuss your decorative and functional goals and learn if Terralon can help you achieve them.