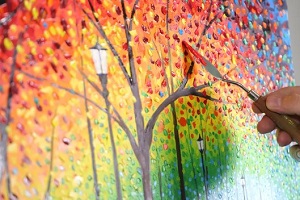 Whether you are thinking about how to revitalize a company's office space—or your personal space at home— acrylic wall art may be the best option for you. Why would you want to do a complete remodel, let alone tackle a major renovation project like painting the walls, when hanging up a new work of art can contribute so much to the atmosphere?
In order to choose the right type of acrylic art to suit your vision, you will first need to learn more about how acrylic wall art panels are manufactured. Here's what you need to know.
What Is Acrylic Wall Art, and How Is It Different from Canvas?
Acrylic wall art, as its name implies, is artwork that is bound in an acrylic surface. Because acrylic is smooth and clear, sort of like glass, it creates a vibrant, shiny image that is notable for its bright and rich colors. Acrylic artwork differs from canvas in a number of ways that might make it a better choice for your space:
Acrylic is thin – Because it is not printed on a canvas with wooden supports, acrylic wall art sits closer to the wall and is more sleek.
Acrylic enhances color saturation – While canvas contributes a painterly look, the acrylic material makes colors pop with deeper, richer hues.
Acrylic is durable – Canvas paintings can be stained or even dented because they are made of a fabric-like material; conversely, acrylic is sturdy and resilient.
These factors are not the only ones to consider when deciding which artwork to feature in your space. Even within acrylic prints, you will find multiple varieties, and these come down to how the art is crafted in the first place. In broad strokes, there are two methods for how acrylic wall art is made: direct printing and face mounting.
Direct Printing for Acrylic Art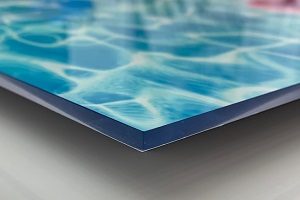 Direct printing is the more common of the two methods of creating acrylic art. A smooth, prepared acrylic surface is set up alongside any appropriate mounting hardware and supports. Then, a specialized printer will take the image provided—which can be custom chosen by you—and print it directly onto the acrylic. Once the ink has dried and the image has set, the acrylic art will be sealed with another thin layer to protect the painting.
The main reason that many acrylic artworks are direct-printed is because of the cost. It is more affordable to print directly on acrylic than to face mount (which is discussed down below).
However, in exchange for that cost, you get artwork that is slightly less clear and vibrant, and the surface is not quite as resilient to damage. For paintings that are going to be in busy areas where children, pets or moving objects are often at work, direct-printed art may start to show its age after some time.
Face Mounting for Acrylic Art
Face mounting is the more expensive option for acrylic art—but in exchange for that cost comes higher quality and greater vibrancy. Your image is printed on high-quality photo paper, which is then placed securely behind a pane of acrylic. This preserves the fidelity of the image and protects it with a thicker layer of acrylic that enhances its color.
Which Variety Is Better for Your Art?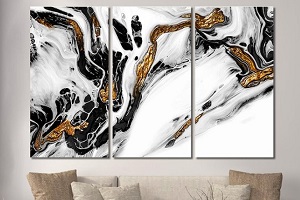 The right type of acrylic wall art for your purposes will come down to your budget, the space in which it will be installed and even your preferences. If you are on a tighter budget or looking for the least expensive option, direct printing will likely be a good choice for you. Similarly, if you want a lot of acrylic artwork, you may benefit from the reduced cost and fast production time of direct printing.
On the other hand, if you would like your acrylic artwork to maintain high fidelity and last for as long as possible, face mounting will likely be the best choice. The cost reflects the quality, and face mounted acrylic art can last indefinitely if properly cared for and protected. Machine printed acrylic artwork will not match the vibrant colors and quality of detail that can be achieved in face mounting.
Trust the Experts to Provide High-Quality Custom Art for Your Space
No matter which type of acrylic wall art you are considering, be sure to trust professionals who stand behind the quality of their printing and mounting practices. The experts at Tree Towns would be happy to help you explore your acrylic artwork options and get a custom order started. Reach out to learn more or to start the process of creating your custom acrylic wall art to perfectly suit your space.