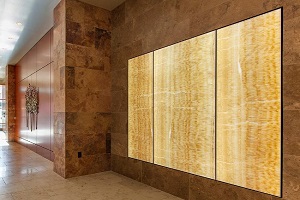 Illuminated wall panels can invigorate a space through customized visuals and soft, gradual lighting. However, more than one type of wall panel is available on the market, and each has its own advantages and negatives.
To make the best choice for your application, the first thing to do is learn more about the two main varieties of illuminated wall panels: edge-lit and backlit. While one is not necessarily better than the other, they do differ significantly enough that one may be much more suited to your goals.
Here's what you need to know about the difference between edge-lit and backlit wall panels, where they shine and where they fall short.
What Is a Backlit Wall Panel?
A backlit wall panel, as its name implies, is an installed wall decoration that is lit from the back. How this works is more nuanced: a plate on the back of the installation shines multiple small lights in a vertical cone shape behind the panel.
This light reaches a diffuser, which takes the cone-shaped light and outputs it evenly. This is what creates the impression that there is a consistent light radiating from the back center of the panel.
What is important to note in backlit wall panels is that the diffuser catches light that is shining from a separate row of lights. The angles of these beams, as well as the heat they produce, are unique to backlit panels.
What Is an Edge-lit Wall Panel?
Edge-lit wall panels differ slightly from their backlit counterparts. Instead of accepting light from a row of LEDs and diffusing it, edge-lit panels shine horizontally directly into a light guide plate attached to the diffuser. The light does not need to travel as far before being diffused, and the direction of the light beam is why these panels are sometimes referred to as side lit installations.
Because the light is coming in horizontally and then being diffused, the spread differs from backlit panels. Additionally, an edge-lit panel may need only one light in order to illuminate the entire installation.
Which Types of Wall Panels Are Best?
Understanding which wall panel suits your needs comes down to deciding which cons are most workable. Negatives of the backlit wall panel include:
Bright spots – Because so many lights are used in backlit wall panels, the diffuser may not smoothly disseminate the beams. This can result in bright areas that make the illumination seem uneven.
Heat – Multiple lights in close proximity means that heat is a concern for backlit panels. This can damage walls if a panel is installed in a place that is not suitable for increased heat. Similarly, areas where adhesives must be used to install panels may not be suitable for backlit options, because the heat can melt the adhesive and cause the panel to fall.
Weight – So many lights in a bulkier frame means that backlit panels are heavier. This may not suit all applications.
Edge – lit panels appear to come out ahead in many respects, but they are no longer the clear leader thanks to innovations in the industry. Edge-lit panel cons to keep in mind include:
Efficiency – Though backlit panels can now use LEDs that consume less energy, edge-lit panels will continue to use fewer lights overall. Those who purchase an edge-lit panel with subpar-quality diffuser materials could experience spotty light coverage.
Mounting difficulties – Because so many of the lighting elements of an edge-lit panel are concentrated together, installation can be more difficult to account for where it is safe to mount the panel.
Materials – Many manufacturers seeking to save money will choose lower quality materials for the light guide plate (mostly polystyrene). This material can yellow over time, which may change the quality and appearance of the light shining from an edge-lit wall panel.
Get the Right Wall Panels from the Pros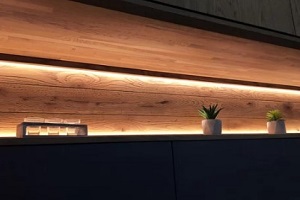 Both edge-lit and backlit wall panels have their uses, and backlit panels have undergone significant technological improvement to make them more viable than ever before. Edge-lit panels are more popular, but they also come with their own share of disadvantages.
No matter which type is right for your situation, be sure that you trust the experts to supply you with customized panels made of high-quality materials for the best results. Unsure which variety of panels is right for your application? The experts at Tree Towns can help you explore your options and understand the differences that matter.
Reach out to learn more about illuminated wall panels or to share your goals and get started on an order to achieve your vision.