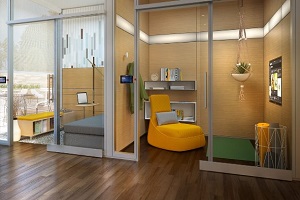 The hustle and bustle of the work day is one of the leading causes of fatigue, stress and unhappiness in the modern world. Humans were not meant to spend a significant portion of their day surrounded by constant work, the noise of phone calls, and the bright lights of computer screens.
This is why more offices are starting to incorporate the use of a quiet room to help their employees take care of their own well-being. If you've never heard of a quiet room—or if you simply don't understand why they are important—here's what you need to know.
What Is an Office Quiet Room?
An office quiet room is a dedicated space where employees can go to rest. It typically has established rules that prevent people from talking above a whisper, eating, playing videos on their phones and other behaviors that might cause coworkers to become distracted or uncomfortable.
Office quiet rooms are used for a variety of purposes; some employees will step into them for a few minutes to have a reprieve from the noise of their office, while others will take time for personal prayer or even yoga and stretching during the day.
This is not the same as a break room; conversations are meant to be sparse unless employees decide together to create a mindful discussion and participate as a group.
Why Your Business Could Benefit from a Quiet Room at the Office
Quiet rooms in the workplace can have a dramatic effect on worker morale and health. For example: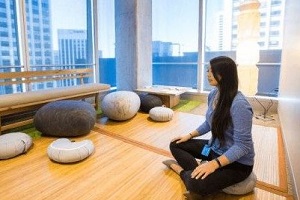 Physical health – It is difficult and unhealthy for the body to sit in one position all day, usually hunched over in front of a computer screen. Quiet rooms provide people with a safe space to stretch, lie down and decompress their spines so that they stay healthier, less sore and more energized.
Mental health – Sometimes work can be overwhelming, and burnout is a real and ever-present threat. By allowing employees a peaceful, undisturbed place to temporarily take a break from being "on," they become more resilient to challenges and more adaptive when issues arise in the projects they are working on. It helps them to calm their stress response and remain alert and in a good mood.
Spiritual health – Depending on the composition of your team, you may have employees who struggle to find the time to do their daily prayers or other tasks important to their religion or culture. A quiet room can help them to feel welcome, celebrated and valued, which boosts productivity.
Communal health – Those who choose to use quiet rooms to lead small group discussions on mindfulness and well-being in their workplace tend to cooperate better later on team projects. Quiet rooms can help create a sense of close-knit kinship at your workplace, improving your team's effectiveness.
These are just a few of the many benefits of a quiet room, all of which can have significant impacts on how your business performs.
How to Achieve Peace and Reduce Noise in Your Office Quiet Room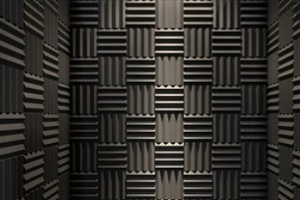 So, how do you set up a quiet room in your office? Any room can be a quiet room, but there are some things you can do to improve the space. Consider acoustic art panels, which are designed to absorb noise and prevent uncomfortable echoes and loudness.
As an added benefit, these panels are customizable, which means that you can choose not only how much sound they'll absorb but also what they look like. Instead of opting for your company logo, think about paintings or photos that you could show that would contribute to the feel of your quiet room.
You can accomplish similar things with other pieces of custom artwork, like acrylic panels that resonate with robust, deep color. The aesthetics of the quiet room will set the tone for what it's like to be there, so consider your decorations carefully.
They can help you achieve anything from a certain ambiance to a specific color scheme, theme or aesthetic that you are aiming for. As you decorate, be sure to choose high-quality options that will stand the test of time; your employees may not enjoy using the quiet room if it feels run-down or damaged.
Trust the Pros to Help You Create the Perfect Quiet Room
Whether you are looking to spruce up an existing quiet room or create one from scratch in your office, choose materials backed by quality. At Tree Towns, we are happy to help you create the perfect blend of custom acoustic panels for noise reduction, artwork and more. Reach out to learn more or to get started on an order for your quiet room.