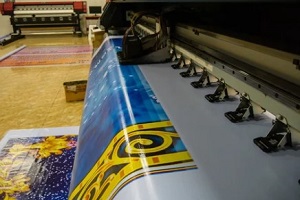 Printing something at home or at the office in rich color and detail has become more possible than ever before thanks to innovations in technology and greater affordability for advanced printers. However, one thing that almost all people are limited by when it comes to printing is size.
In order to print something larger than what fits in a standard printer, you will need to rely on specialized printing services. Wide format printing is one of the most common types of print services available, and it does not have to be expensive.
Here is what you should know about wide format printing, including what the term means and how you can use these displays to improve your spaces and boost your brand.
What Does Wide Format Printing Mean?
Even the biggest office printers will typically reach their limit at around 14 inches or, if your office printer is especially impressive, 18 inches. They simply don't have a tray or paper roll that can handle paper bigger than this without needing to print one image across multiple pieces. That is where wide format printers come in.
The purpose of wide format printing is to print items that are larger than 18 inches. The size of these images can range up to around 100 inches on one side, making them impressively large and useful for displays and advertising.
Wide format printers rely on sizable machines and have access to substrates (the items being printed on) that are bigger than the sizes you might find in stores. Many companies try to avoid wide format printing because they assume that the sheer surface area being printed means that the process is expensive.
However, there are many factors that go into the cost of this type of production, and it does not need to empty your company's wallet. For example, choosing to have your design printed on a 6-ink printer (rather than a 12-ink one), reducing the droplet size, and being willing to wait longer for the print to complete all make the process less expensive.
Uses of Wide Format Printing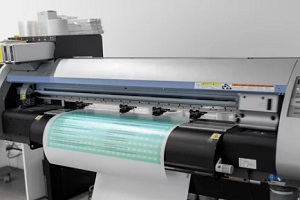 Wide format printers are just as versatile as your imagination, which means that a company could use them for a range of purposes. Most commonly, wide format images are used during important commercial events, such as grand openings or trade shows.
Because they are so large, they are able to be easily read from a distance, so companies can reach customers who are still some space away and draw them toward the building. Large posters, banners, and even window decals all fall under the scope of wide format printing.
Once customers have approached the building or display, the graphics can transition to those small enough to be printed by the company, including 8.5×11" posters. Wide format printing equips businesses with the ability to reach clients from a distance and expand their branding over a larger visual area.
Alternatively, this type of printing can also be used to create other projects such as wallpaper, metal installations, or wooden displays.
Substrates for Wide Format Printing
One large factor in both the cost and visual detail of your wide format print is the substrate on which you choose to print it. In a regular office printer, paper is the substrate. However, wide format printers can handle a range of potential substrates, each with its own advantages and disadvantages.
For instance, PVC is a weather-resistant material, which makes it ideal for outdoor uses that will stand up to rain and UV rays. It can even be printed with UV-resistant ink to extend its lifespan.
Vinyl is another common substrate for wide format printing.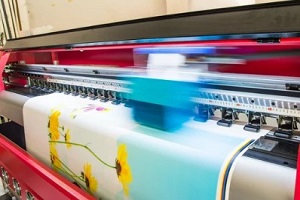 Vinyl is best used indoors, but one of its biggest advantages is that it is removable—great for decals and other temporary uses. Vinyl can also be used for banners. Of course, high-quality paper is always an option.
Just remember that large paper products are more susceptible to tears and folds or creases if not properly cared for and installed carefully. These are just a few of the wide range of potential wide format printing substrates, and an expert can walk you through which application may be right for the goal you have in mind.
Get Quality Wide Format Printing from the Pros
Whether you are looking for a way to reinvigorate your brand image or are in the midst of preparing for an important commercial event, wide format printers can help.
At Tree Towns, we help businesses of all sizes create impactful graphics that suit their needs, including wide format prints on a variety of substrates. Contact us to discuss your project and get started on your order in time for the big event.