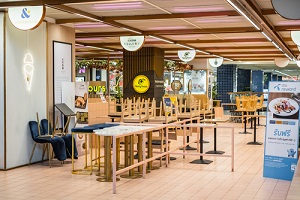 Restaurants are a top choice for a place to unwind, relax and refuel. Sometimes, we want a quiet restaurant – too much noise can put a damper on the experience. Excessive noise could come in the form of high volume, significant echo or a tinny quality to the building's acoustic noise. There are plenty of solutions for improving your restaurant's acoustics. Check out the following ideas to learn which ones best suit your needs.
Try Baffled Ceilings
Sometimes, the shape or design of a ceiling is the culprit behind all noise. Sounds seem louder when sound waves bounce off walls, over and over, through open space. If your restaurant has a hard, smooth ceiling, that ceiling is doing little to absorb sound. The same is true of an open, vaulted ceiling where sound waves can bounce uninhibited. If you're looking to resolve this problem in your restaurant, there are several ways to install acoustic controls and conceal them as visually appealing decor – for example, baffled ceilings.
Baffles are free-hanging elements that you can suspend from your ceiling. Often, they look like waves or ridges. Baffles add visual texture, and their design keeps sound waves from creating unwanted noise.
Use Furnishing As A Sound Buffer
Your ceilings may not be your restaurant's only noise contributor. If your restaurant has an open floor plan, you may need more objects to curb the travel of sound waves. Furnishings made from textiles, rather than hard materials like wood or metal, are an effective solution.
Not only are they soft and absorbent, but they also serve an actual purpose by providing your guests with another place to sit. Simple changes – like adding decorations to your restaurant – can interrupt the flow of sound and reduce ambient noise. If the space uses free-standing chairs, change out solid wood for plush, cushioned seating. It makes a noticeable difference.
Create Natural Sound Barriers And Dividers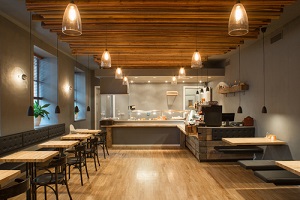 The noisiest rooms are often the biggest and most empty rooms. You can cut down on noise volume by using barriers to strategically reroute sound. Is the noise coming from customers chatting in the waiting area? Add a barrier or divider near the restaurant entrance to separate the waiting area from the dining area. Are guest conversations being drowned out by the clanging of a busy kitchen? Swap kitchen curtains for doors or windows.
Barriers can dramatically reduce noise, but you do not need to invest in a full structural redesign of your space to achieve better acoustic performance. Consider movable or adjustable barriers. Many of these will fold or expand so that you can use them only when you need them – and move them without difficulty. You can even purchase custom sound barriers, featuring your restaurant's color scheme or logo, to help the barrier fit seamlessly within your space.
Add Acoustic Art To Walls Or Ceilings
Acoustic art — also known as acoustic sound-absorption panels that feature pleasing aesthetic designs — not only absorbs sound but doubles as artwork. These panels can be installed on walls or suspended from ceilings. Just like sound barriers, acoustic art can be customized to suit your design scheme. You can also customize acoustic art's materials and depth to better suit your noise absorption needs!
Acoustic art comes in a variety of sizes, and it is recommended to bring in a professional to install it. They can help you strategize the placement of acoustic art to better absorb sound in your restaurant's noisier areas. When installing acoustic art, make sure it's facing the direction of the noise source. If the kitchen is responsible for most of your restaurant's noise pollution, your acoustic art will be most effective when placed opposite the kitchen entrance.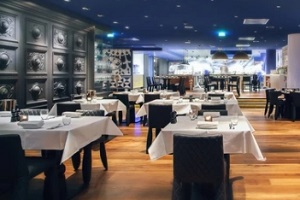 Similarly, if most diners are facing the same direction, place the art opposite them where they can see it. This will prevent the sound waves from being reflected into the room. It also enables your diners to better enjoy the artwork. If you want to install acoustic art on the ceiling, you are not limited to flat paintings. Even unique shapes like stars can make a difference in sound quality!
Get High-Quality Custom Acoustic Art From The Pros
You have a lot to think about when managing a restaurant, and you might feel out of your depth when trying to conquer noise problems. Leave the solutions up to the experts. The professionals at Tree Towns would be happy to help you achieve the right sound balance with customized acoustic art for your space. Reach out to ask questions or to get started on an order.