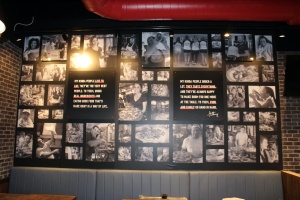 Restaurants don't necessarily have it easy when it comes to catching people's eye and keeping business booming. However, the way that a restaurant is decorated plays a big part in how it is perceived, both before people enter and while they are eating. This has a lot to do with chairs, lighting and comfort, but do not forget that your wall coverings can make an impact too.
How A Custom Wall Makes Your Restaurant Stand Out
Custom wall covering can add a lovely visual touch to your space, helping it to stand out from the others. With the proper company, the preparation and installation process can also be easier than you might think.
Custom Wall Coverings Can Visually Guide Customers
You may think that wallpaper is so last century, but the reality is that modern wall coverings are durable and can be customized to serve the purposes that you need. It is important that your customers know where to go and do not feel lost when they enter. Custom wallpaper can assist, whether by utilizing bright colors to draw attention or by actively using stylized arrows to guide those just walking in.
Textured Wallpaper Can Add Flair Without Extra Cost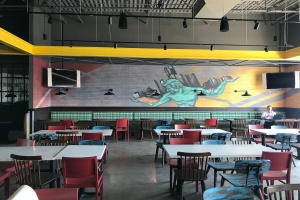 There is no need to spend a lot of money on hardwood, fancy geometric tiles or other styles of wall covering when you can use textured wallpaper for a fraction of the cost. Modern textured wall coverings are difficult to distinguish from the real thing and are much easier to clean. Additionally, they resist wear and tear better because they are usually made from vinyl, which does not easily scuff or scratch.
Typography Can Add Value, Information And Character
One of the most unique things you can do by creating custom wall coverings is incorporate stylized typography. Why not post your entire menu as a wall covering near the dining area? If you change your menu later, custom wall coverings are easy to remove nowadays and will not damage the underlying drywall and building material. Using words as part of your wall decorations can clarify the vibe and style that you are going for, whether that comes from poetry, famous quotes from staff or founders or even a highlight reel of the types of food that you serve. In steakhouses, for example, diagrams of all of the cuts of beef and where they come from on the cow can be a great stylistic choice.
Thematically Present Your Brand In A Memorable Way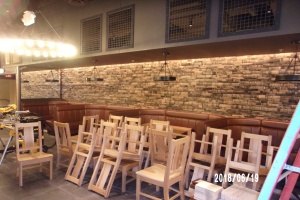 It is important for business that your customers remember your brand after they leave. One way to encourage this is to present your brand logo and colors in subtle but ever-present ways during their dining experience. Custom wall coverings allow you to show off your unique logo and colors in exactly the places and manners that will catch clients' attention.
Trust the Experts For High-Quality Custom Wall Coverings
If you are considering custom wall coverings, be sure to get them from a company that creates reliable, high-quality materials. Tree Towns can help you achieve your wall décor goals, whether you already have a design in mind or need help getting started. Reach out to Tree Towns Digital Decor to discuss your goals and vision.