Graphics can be a powerful tool when displayed in an office, at an event or even as part of advertising. However, failing to put the time and effort into creating a quality file before printing can result in an end graphic that is blurry, pixelated or off-color.
If people see that your banner or logo is not high quality, they may make the same assumption about your business—and you could harm your own reputation by using insufficiently detailed files.
To make sure that you keep your graphics at the highest quality that they can be, there are a couple of things you need to double-check before you send your file off to the printer. One of these is the file format. Here's what you need to know about the right file format for large format printing, as well as other areas you can check to ensure the best result.
Which File Format to Use for Printing
A file format is a descriptor that indicates how a file was processed. Just like you can identify a document versus a picture by its file names (something like .docx versus .jpg), you can tell a lot about how high-quality a picture is based on the format in which it was rendered and saved.
The best file format for large format printing is either TIFF or PDF. PDF files are good at compression, meaning they can make your picture very big or small without losing any quality in between.
TIFF files are a lot bigger, but in exchange, almost any program can open them just as they are. This is critical for printing because you won't have to worry about losing quality while opening, transferring, setting up and printing the image.
How to Change File Formats
So you have an image that you'd like to use for a large format graphic, but it's not in TIFF or PDF format. What do you do? You'll likely need to use graphic software to edit your image and convert file format for large format printing. These might be Adobe programs like: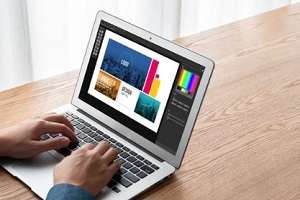 Lightroom
InDesign
Illustrator
Photoshop
You might convert your image to a vector-based style that can be scaled up with no loss in quality, or you can take a smaller image and make changes before saving it as a TIFF or PDF. Your printer can help you with this process.
Choosing the Ideal Resolution
Once you've got your image into the appropriate file format, your job is not quite done. Don't forget to look at the resolution of your image! The resolution describes how many pixels (or "dots per inch," dpi) the image is displayed.
This, in turn, impacts how well people will be able to see your graphic from certain distances. Being close to an image might call for dpi upwards of 300, whereas those viewing from far away won't notice detail above about 75 dpi.
Other Types of File Formats
There are some niche cases in which a file might be better off as something other than a TIFF or PDF. Your printer will let you know what file format is best. These might include: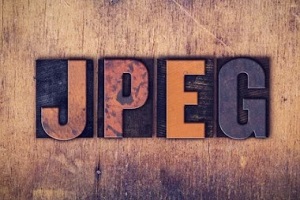 JPEG – JPEGS allows you to compress images while choosing how much quality to retain. These are not often chosen for large format printing because they only store information about color in a 24 bit array, which means that the colors you regularly use for your business might not exactly match what is printed if you are using something niche. Instead, JPEGs are mostly used for archiving images.
PNG – Many people start with their graphics in PNG format because this file type allows for transparency. However, like JPEGs, PNGs cannot handle non-RGB colors like CMYK, so your colors might not come out of the printer as you intended.
GIF – You might only think of GIFs as images that move (which can be true), but they are also a potential image printing format. While they generally allow more colors than PNG and JPEG formats, they use a color lookup table to try to match similar colors and blend using nearby pixels rather than truly printing a color as-is.
Trust the Pros to Help You Print Large Graphics at High Quality
Whether you already have an image in mind or you need help getting things set up before you create your graphic, a professional can help you manage the correct file format for large format printing.
The experts at Tree Towns create custom graphics for all occasions and can walk you through what you'll need to provide to produce the best large format printing. Reach out to learn more or to schedule an appointment to get started.