Your logo serves an important role for your organization, no matter if you are simply presenting it to consumers on a daily basis or showing it off as part of a business summit or other peer-to-peer event. However, how you demonstrate your logo in your graphics is just as important as the logo's design and appeal themselves. To ensure that your branded graphic, imagery and logo are captured as effectively as possible, it is vital that you entrust your logo printing to a reputable company that is prepared to produce the highest quality.
Choose The Right Quality
Selecting the highest quality for your branded graphics is about more than just choosing the highest resolution. In fact, the specific design of your logo and the needs of your branded graphic will dictate what sort of printing you will require; if you fail to correctly choose the property quality and scaling for your logo, your graphics could end up looking mismatched, or like your logo does not belong.
Similarly, if your logo's quality is too low for the graphic that you are using, it may appear pixelated or fuzzy. Be sure to work with the experts to choose the right resolution and quality for your logo and the branded graphic in general so that it comes out looking crisp, clear and vibrant without unnecessary cost.
Keep Your Logo Practical In Usage
While it is true that a brand's logo is invaluable, as is how often a potential client or customer sees it in order to associate your brand with familiarity and quality, be sure to remain practical when creating your branded graphics. For example, if the graphics that you are using are posters, simply displaying your logo once per poster may be sufficient; consider an easy to see location, such as centered at the top.
If the branded graphic that you have in mind is more like a custom wall covering for your business, your logo can still be used; however, it should be spread out and perhaps more muted to ensure that it does not overwhelm the eyes of your clients. Your logo need not be large and bright in order to serve its purpose well.
Keep Your Branded Graphics Varied
Variety is the spice of life, and while your branding should be consistent in order to convey the right qualities in your brand, that does not mean that you should always use your logo in exactly the same way. Keep its colors and design the same, but do not neglect to think of all the ways that custom branded graphics can serve you.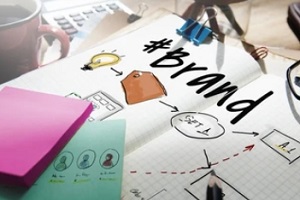 Many businesses often think of posters, business cards and similar graphics as the best ways to visually express themselves, but a skilled graphics design company can assist you in realizing your branding goals in a wider variety of ways. For example, have you considered how your logo could serve your business as part of a custom wall covering? What about utilizing your brand colors as part of a custom textured wall or acrylic paneling for your firm's space?
No matter what type of custom graphic element that you choose for your logo and business' colors, be sure to trust the experts who can produce the materials with the highest quality. Not only will this ensure that your logo and colors are robust and visually appealing, but also that they last for as long as possible, even in situations in which they are exposed to significant amounts of wear and tear.
This saves you money in the long run. In the case of custom options like wall coverings, a high-quality material will not only be easy to install but also easy to replace if you would like to keep your space varied and exciting seasonally or at other times.
Trust The Experts To Produce The Best Logo Graphic For You
Whether you are considering how to capture your logo in a branded graphic for the first time or you already have an idea that you are simply looking for the assistance or tools to execute, be sure to entrust the task to the professionals. The experts at Tree Towns stand behind the quality of our products so that you can rest assured that your logos and graphics will stand the test of time on whatever surfaces you choose to place them on.
Whether you need custom wall coverings, acrylic graphics or more, we are happy to help you realize your vision in accordance with your budget and goals. Reach out to learn more, ask any questions that you may have or get an order going.