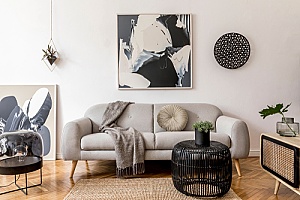 If you are looking to create new wall art for your space, there are a series of choices you must make. First, of course, you need to choose an image to print, then you will have to decide between canvas, metal and acrylic as a base to put your image on.
This choice of material will be based on what kind of image you are using and what look you are going for in your space. This guide can help you find the right style of wall art for your needs.
Canvas
If you choose to have your artwork printed as a canvas, a reputable printer will select a piece of high-quality canvas fabric to serve as the base for your wall art. Then, using inkjet printers, they will print your chosen picture onto the fabric.
After the image has been applied to the fabric, the material is dry-cured to ensure the image retains its vibrancy. It is then sealed with a slightly glossy coating to protect it, as well as give it a sleek and professional-appearing finish. Finally, the canvas is attached to its wooden frame to complete your new iconic look.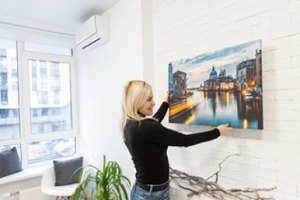 A canvas print gives both your image and your space a feeling of softness and warmth, and it can be both traditional and classy, elevating the art on your walls to the same quality you would see in a museum.
Canvas can give your art the feel of a painting, and less detailed images such as landscapes, illustrations, abstract art, and pictures with only a small piece in focus work best on this medium. The warm feeling of canvas is also favorable to keepsake photos and artistic portraiture.
Due to canvases' tendency to stick out from the wall due to their wooden framing, they also add depth and texture to a room. Compare this to the smooth finish of a thin metal panel when thinking about how you would like the aesthetic to come together.
Metal
The base of custom metal wall art is a thin piece of aluminum whose edges have been smoothly rounded off. The printer will take that metal panel and use heat and pressure to imprint your image of choice into its base. The process is finished with a high-gloss coating that locks in the color and enhances the wall art's shine.
Metal wall art can add drama and modernity to your indoor space – as well as your image. The metal base can also add an exciting new texture to your décor and provide a striking statement piece.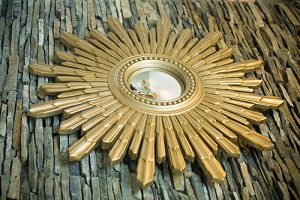 Metal is great for very colorful images. It can capture all your colors and details, and photos with a lot or a little space in focus turn out equally well, making metal an ideal base for portraits, landscapes, and photos from your travels. The bold look of metal also makes it good for abstract and geometric designs and dynamic illustrations.
However, metal artwork should be displayed in areas that are less prone to damage, because the metal surfaces can quickly become dented or soiled with fingerprints. Something more robust may be more suited to areas where children and pets play or where furniture is moved around frequently.
Acrylic
Your acrylic wall art starts with the same clear acrylic that is used for photographs. This keeps it durable and glossy. Inkjet printers will use UV inks to print your image onto an acrylic panel, and then a series of backings are added for protection. Finally, printers will add a coating to prevent fading.
Alternatively, you may choose to have an acrylic wall art piece face-mounted instead of direct printed onto the acrylic. In this case, the photo will be printed on high-quality paper first, then sandwiched underneath an acrylic pane. This is the more expensive option, but the image ends up more preserved and safe from external stressors.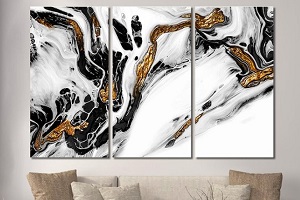 Acrylic is a material that is designed to produce or enhance images in vibrant, lifelike detail. Due to this, it is a medium that is extremely well suited for high resolution photos like landscapes, documentary images, travel photos, portraits, and busy scenes filled with movement.
Acrylic also lends itself to detailed illustrations and intricate designs. There are multiple types of acrylic wall art, so you can choose the variety that suits your aesthetic and budgetary needs.
Trust the Experts to Help You Print the Perfect Wall Art
Whether you decide on a canvas, acrylic work or metal display, you can receive high-quality custom wall art from the professionals. The experts at Tree Towns would be happy to help you explore your options and dial in on a design that will look great in your space. Reach out to learn more or to get started on a custom order.