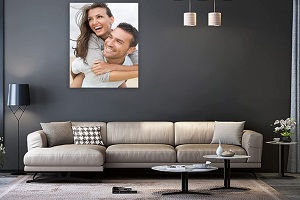 It may seem like there is a new trend for home décor every time you turn around, and the very thought of continually redecorating your space to keep up with the current look may be exhausting.
However, this does not need to be the case. Remember: your space is your own, and you should not feel pressured to decorate it in the exact same way as everyone else.
Instead, each new trend should be a source of inspiration—you can sort through them, choosing which ones will improve the look of your home and make it more pleasing to you. Here are some of the custom wall art trends that are popular in 2022 to get your inspirational gears turning.
Rearranging Gallery Walls
Gallery walls have long been a popular way to decorate a surface. While they are still trendy, the favored style of arranging gallery wall pictures is changing. Where before gallery walls were organized in a symmetrical grid formation, often with a large, eye-catching centerpiece, people are now favoring a more irregular pattern that still feels balanced while more natural.
Light and Dark Wood
Mismatched wood finishes are another wall art trend on the rise—that is, adding frames with lighter finishes to rooms with dark wooden tables, shelves, and floors. It adds some contrast, as well as brightens up the space.
Blues Are In
The fashionable colors used in wall art are experiencing a shift as well. Neutrals, like browns and oranges, have traditionally been the way to go, but less neutral tones are making a return. Vivid blues—such as cobalt and royal blue—are especially popular. Since wall art can be customized to suit your taste, you can order art in any color that suits you. Try utilizing pictures you have taken in certain color families by having them printed on canvas or even acrylic.
Moving the Triptychs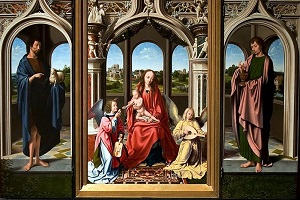 Triptychs—or pieces of art split into three separate panels—have been popular for years, and like gallery walls, they are getting an update. Instead of them being simply three pieces side by side, people are arranging them into more offset layouts, making the groupings more visually interesting.
This could include a slanted display where the leftmost third is the highest and descending downward, or even where the middle element is elevated slightly above the rest.
Color and Intrigue
For the past several years, the most fashionable style has been minimalism, the favorite of Millennials. But now, with Gen Z entering the scene, trendy wall art has gained bolder colors and more intricate patterns and designs. Popular shapes and textures are moving away from the sleek and more toward forms reminiscent of nature.
Receding Frames
As the art itself becomes more vibrant and complex, the frames used to display it are getting smaller and simpler or disappearing entirely, so as not to distract from the bold prints and create unnecessary chaos. Photos are being showcased on their own or with only a subtle holder.
Due to the lack of frames but the continuing need for art that will hold up, prints are often being made on thicker and larger materials. Consider custom acrylic wall art if you would like a piece that is vibrantly colorful and lasts a long time without a frame.
When frames are used, they are usually low-profile neutral metal or light-colored wood. However, mismatching styles are still used to keep everything interesting.
Growing Mats
Another framing technique that is becoming more common is large mats. Phone cameras, which have become the new normal for photography, have influenced this trend. The resolution on these photos, though excellent, is still not high enough to reliably print art larger than around 11 x 14 inches. With these smaller photos, a mat makes it possible to create a striking piece of artwork and use a large and elegant frame without an equally big print.
Make It Yours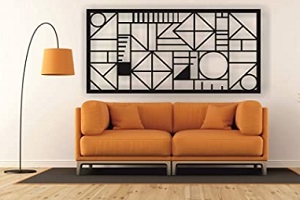 Finally, the most important trend of the current time is the emphasis on authenticity. People are paying less attention to being trendy as the cycles of what is popular change faster and faster.
Having décor that you like and suits you is more important—and will last longer—than keeping up with the most fashionable looks. This is where custom wall art truly shines, since it can encapsulate everything that makes you you.
Trust the Reputable Printer for High-Quality Art
If you are considering a custom wall art piece in 2022, it is important that you order it from a company with a history of quality. The professionals at Tree Towns would be happy to help you transform your perfect image into an ideal piece of art for your space. Reach out to learn more or to get started with an order.