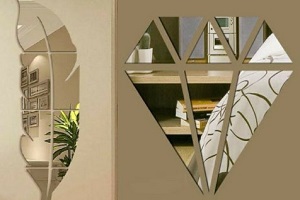 Mirrors can add a unique aesthetic to any space, and they are not limited to uses such as bathroom walls. Instead, consider how mirrored surfaces could make a space feel more open when installed on a ceiling or the change to ambiance achieved by using a mirror as a bar backing.
Many people are hesitant to commit to mirrored panels, especially large ones, because of the cost and risk of breakage. This is where acrylic mirrored panels have revolutionized the industry.
Here is what you need to know about acrylic mirrored panels, whether they crack in the same way as traditional glass and why they are quickly becoming the preferred option.
What Are Acrylic Mirrored Panels?
Acrylic mirrored panels are a sheet of thermoplastic that has been made reflective and cut to shape. An acrylic mirror will be vacuum metalized to bond it with the other elements of a mirror, such as the edge plating. Because these acrylic panels are just as reflective as glass, they can be indistinguishable once installed.
However, acrylic mirrors are more flexible than their glass counterparts because the thermoplastic sheet can be cut into custom shapes and sizes. Where glass may need to consider load and fragility when creating shapes, acrylic mirrors can more easily curve, bend and achieve unique visuals.
Do Acrylic Mirrored Panels Crack?
When people think of the risks of using mirrors, the very first thing they think of is cracking. Acrylic mirrored panels can crack just like glass mirrors do, but acrylic is much more resistant to damage. Thus, while cracking is possible, it is significantly less likely.
Additionally, acrylic mirrors that crack typically do so in a safer way by sticking together, resulting in a spiderweb-like crack that continues to cling to the frame. Compare this to glass mirrors, which may shatter and leave dangerous, sharp debris all over the floor.
Why Choose Acrylic Mirrors Over Glass Mirrors?
Acrylic mirrors offer numerous advantages over glass. These include:
Durability – As mentioned previously, acrylic can stand up to stronger forces without breaking than glass can. In fact, acrylic is about 20 times stronger than glass when measured against impact. Acrylic is more likely to bend and diffuse the force of a blow than to crack or become damaged.
Cost – Glass is costly to make, and for how easily it breaks, it can be costly to replace as well. Acrylic is about three times cheaper than glass for the same surface area coverage. This enables businesses and homes to achieve the reflective look they want at a fraction of the cost of glass mirrors.
Weight – Most people know that installing a glass mirror can be a real challenge because glass is heavy. Even small mirrors meant only for one person can weigh up to 100 pounds, making installation a challenge. Additionally, these mirrors will need to be carefully installed on strong studs that can support their weight—which means that many larger projects will require additional support construction. Acrylic is a third the weight of glass mirrors, so installation is very simple. Spaces that did not have the load-bearing capacity for glass may be able to accommodate large acrylic mirrored panels instead.
Adjustability – The thermoplastic material from which acrylic mirrors are made is highly flexible. This makes acrylic panels an ideal choice for difficult applications, such as installing a mirror around a pillar where it will need to bend or curve. This bending does not compromise the integrity or strike resistance of the mirror. Acrylic is so simple to adjust that it can even be cut at home to fit into uniquely shaped applications.
Easy upkeep – Acrylic mirrors tend to have a longer lifespan than their glass peers for a number of reasons. One of these is durability; glass is more likely to break before acrylic. However, another factor is ease of upkeep. The clarity of acrylic can beat glass as long as the mirror is maintained, and this process is simple for acrylic. Soap and water are all that is required; just be sure not to use an abrasive scrubber so as not to scratch the acrylic surface.
Get Acrylic Mirrors with Custom Finishes from the Experts
Acrylic mirrors can create a new feeling of openness and brightness in a space if used strategically. Thanks to their durability, flexibility and low cost, acrylic mirrored panels are quickly becoming more popular. The experts at Tree Towns can help you create a customized acrylic mirror that perfectly suits your ideal size, shape and finish.
Our antique and rustic finishes add character and help your acrylic fit into your space. Contact us to learn more or to get started on acrylic mirror customization.