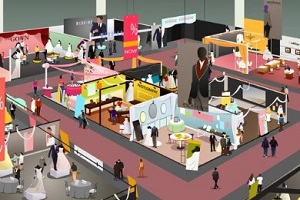 Trade shows are a critical time when your business has the opportunity to become top of mind in an industry. Newcomers who have never seen or heard of your brand before will make a first-impression judgment of your company within the first five seconds of seeing your presence, so it's important to make your graphics work for you—both on a surface level and subconsciously.
Doing this requires knowledge of how to build the right mixture of trade show graphics so that potential customers are always getting the correct exposure.
Here are some of the most essential trade show graphics for your next event so that you can establish your brand ethos, create a memorable experience and promote a good first impression that results in more conversions.
Long-Range Graphics
The first thing that people will see of your brand at a trade show is any long-range graphics that you have set up. These are the biggest and most visible—but that also means they tend to be the most expensive, which is why companies cut back on using them. Avoid this urge and invest wisely into long-range graphics so that clients can see your location from a distance.
Hanging signs, canopies and back wall signs are the three most common long-range graphic options at a trade show alongside a kiosk, if your business is located in a position on the floor where a kiosk is possible. These graphics should be visible from at least 100 feet away, and they should focus on brand colors and identity.
This is the biggest element of the first impression. You want people to get a sense of your business based on easily parsed colors and a logo or symbol from far away.
If your long-range graphics are muddled, difficult to read or not distinct enough, people's eyes will pass right by without noticing.
Middle-Range Graphics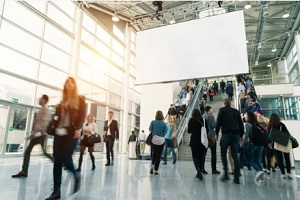 Mid-range graphics are those meant to be viewed from within about 50 feet of your exhibit. These should still be large and eye-catching, but now is your opportunity to include more detail about your company and what you are offering. Choose information that is effective in drawing potential customers from nearby exhibits or those walking the rows.
Eye level is the appropriate height to display mid-range graphics because businesses should be making it as easy as possible for newcomers to read their content. Create curiosity with banners, A-frames and even large format posters.
Short-Range Graphics
Once people have stopped at your exhibit to browse, they will primarily be engaging with your short-range graphics. While it is true that you can include more information on these than any of the other types, keep things simple and brief. You don't want people feeling like they don't have enough time to read everything you've shared.
Literature racks are a common choice, and many exhibits rely on graphs, charts and infographics to share more detailed information in a digestible format. Keep these displays at eye level as well, and consider providing short-range graphics that people can take with them in goodie bags, like customized koozies or even pens with your brand logo and style.
The Right Graphic Style
In addition to selecting the right mixture of long-, mid- and short-range graphics for your trade show exhibit, you will need to be strategic about how your image is crafted. Remember that you only have a few seconds to educate someone—both consciously and subconsciously—about everything from your brand's personality to its genre and professionalism.
This can be reflected in a multitude of areas, including: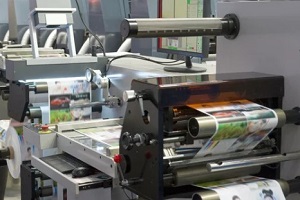 Your print quality
How easy it is to read your graphics
Whether your graphics contain too much information
Whether your logo is intelligible
Whether your brand colors are appealing
Whether your font is legible
Whether everything flows on the design
How the design draws the eye to specific elements first
Image clarity
Of course, some of these challenges have to do directly with printing, and some relate to your own choices in the design process. A professional custom printing company can help you tackle the composition of your trade show graphics to create the best visual representation of your brand.
Trust the Pros to Help You Create High-Quality Trade Show Graphics
Whether this is your first trade show or you are an event veteran, it's important to pay careful attention to how your graphics are working for you—and where they are lacking.
Essential trade show graphics that cover the range of visibility from a distance all the way through to when people arrive at your stall can serve you well to capture new clients.
The experts at Tree Towns are proud to offer custom graphic printing as well as installation where necessary so that you can feel confident in your trade show display. Reach out to learn more or to schedule an appointment to get started.