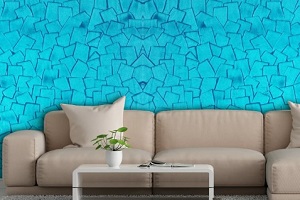 When people think of wall coverings, they most often envision single-shade wallpaper or maybe something with a light patterning. However, wall coverings can be so much more, and that includes introducing textures and realistic faux surfaces into your space.
Whether you are a business in need of a visual refresher or an individual looking to transform a particular room in your home, textured wall coverings are an often overlooked way to help you achieve that goal.
In order to choose the best textured wall covering to fit into your vision, you'll first need to know what options you have to choose from. Here are some of the most common types of textured wall coverings.
Random Texture
Most commonly achieved with paint, random textured coverings can be installed by choosing not to roll paint on smoothly. Whether it's dabbing a roller into the paint to leave pulled up areas or specifically going for a popcorn aesthetic, expand beyond the possibility that paint must only be applied in smooth, even coats.
That being said, paint can come with particular challenges, including volatile chemicals (responsible for the notoriously strong smell) and the need to put in a lot of elbow grease in order to paint a room. That's why many people choose non-paint wall coverings when looking for texture.
Naturalistic Textures
Many people wish that they had beautiful stone walls or wooden beams decorating their rooms. However, actually installing these is a significant challenge, not only in terms of the construction work but also the cost of acquiring natural materials like wood or stone.
However, textured wall coverings can imitate these materials for a fraction of the price (and weight and effort). Consider faux stone or wood wall coverings that contain realistic textures as a feasible substitute for these types of projects.
Textured Wallpaper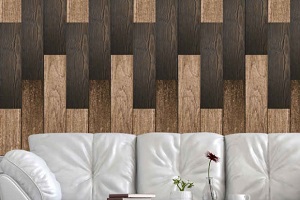 Of course, if you are looking for something more subtle, generalized textured wallpaper could be the right fit. This is a great way to break up glossy spaces and create a matte or interesting look.
Many textured wallpapers boast beautiful, flowing patterns that look like water or smoke, giving your space an interesting visual appeal without drawing too much attention to themselves. Plus, custom textured wallpaper is typically easy to install and remove later—unlike traditional wallpaper, which is notoriously sticky and adheres stubbornly to your walls.
Installations and Acoustic Art
If you're looking for something bold and beautiful, think about full wall covering installations or even acoustic art. This is especially useful in spaces that are loud or tend to carry noise annoyingly well, such as restaurants, businesses, large rooms with vaulted ceilings and more.
Installations can look like faux stone features or even wooden slats on a wall. These do not necessarily need to be installed in such a way that they are bearing the load on the wall—instead, they are wall coverings that can be attached to what you already have.
As sound waves move around a room, they bounce off of smooth surfaces, magnifying and lingering. This is what causes a room to seem noisy, echoing or uncomfortable. However, acoustic art wall coverings provide a textured surface that makes it more difficult for these sound waves to bounce.
Some types of acoustic art are even built to absorb sound entirely rather than simply reducing its reflection for even greater noise dampening. And best of all, these solutions can be customized to suit the colors and styles that fit your space.
Texture Panels
If you would like to install texture onto an existing wall but aren't a big fan of wallpaper applications, consider panels. These are reminiscent of beadboard and other installations that are affixed onto a wall's face, install.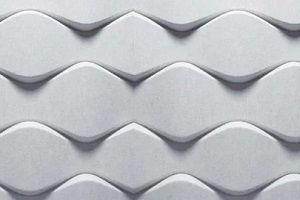 They can be as simple as slats or connected panels or as complex as full scenes and faux natural materials. No matter which type of texture panels you choose, they will fit seamlessly into your existing space as long as proper measurements are taken.
Be aware of how heavy your textured panels are so that you are sure your wall can support them; if you have any doubts, ask an expert who can help you make the right choice and tackle installation appropriately.
Get Your Custom Wall Coverings from the Pros
You don't have to relegate yourself to living with the boring walls of your current space. Whether you are interested in custom wall coverings or textured installations, be sure to trust the experts to provide a high-quality product.
The professionals at Tree Towns are proud to help clients achieve their custom wall covering goals. Reach out to learn more or to get started on ordering the textured wall coverings that are perfect for your space.