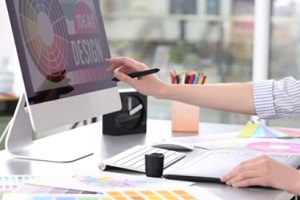 As a business or as an individual, how you present yourself makes an impression on those around you. That is why it is important to be mindful of the image you present to the world. As a business owner, this may affect the customers you receive, influencing your company. Graphic designers recognize the power of a well-made image for display graphics, and they can help you design one that fits the needs of you or your business.
What Is Graphic Design?
Graphic design involves creating text and images that visually shape how users interact with your brand and even your company's physical assets. Professionals focus on constructing images to fit customer expectations and needs, which can be difficult amid balancing colors, patterns and more.
It typically involves an intimate knowledge of the people who will view and interact with the design. The job of a professional is to study the client. Afterwards, the creator can make visuals that help that client and their business succeed or guide businesses that are tackling that process themselves.
Graphic artists typically use a variety of tools. A valuable resource for any designer is software, such as Adobe Creative Cloud, Photoshop, or Illustrator, to create designs. Creators may also use notebooks and color swatches to sketch out ideas and experiment with assorted color combinations on paper.
What Are Display Graphics?
Designers create a wide range of images, often including text. Artists may refer to these products as graphics. Display graphics, as you may imagine, are images specifically created to be presented to an audience; most often, this occurs as businesses consider how to use their logos and branding to increase their presence.
Usually display graphics use a digitally created image in a physical format. This format may include posters, fabric banners or cardboard cutouts used to advertise or display information in a business. You may also see display graphics inside a building; custom wallpaper or art prints are two examples of display graphics that individuals might use.
Why You Need Competent Display Graphics
Whether you are a homeowner trying to make your space capture who you are or a business owner trying to attract and sell to customers, graphics can help you accomplish those goals. Images present your brand.
This means that if the graphics you use do not work well together or do not present you how you would like, then those images do not accomplish their goal. A well-made graphic effortlessly demonstrates who you are. Viewers of such images will recognize this immediately, leading to a greater understanding of you, your goals and your values.
What A Professional Can Do for You
Graphics can help you present yourself well; why not create your own? For some, this process is appealing, and for others, it is nothing but overwhelming. This is why many people choose to work together with the company that produces their custom display graphics to ensure they are as perfect as possible. Professionals know how colors, shapes and layouts work together, and they can use this knowledge to appeal to your particular brand needs. Some things that they might offer include:
Knowledge of competitors: A professional knows the graphic design styles and colors typically used in your industry. They can help you work with or against these norms to help you shine.
High-quality equipment: When trying to decorate your space or advertise a company, you may not have the funds to spend on design software and equipment. Professionals have these tools and know how to use them well.
Training in artistic principles: Creators know how to utilize space, color, balance and other design principles to make an image that delights.
A professional designer brings knowledge, superior equipment and passion. These resources contribute to a streamlined experience for every client. You may be hesitant to leave the design up to someone else, but the experts will work with you—either from scratch or with a design you have already begun to tinker with—to create images that you and everyone who views it will enjoy.
Trust The Experts To Supply The Perfect Display Graphics
Whether you are considering how custom graphics can help your business or building, or you are ready to commit to printing your design, leave the task to the professionals who can ensure that your display prints are serving their purpose excellently and for as long as possible.
Tree Towns stands behind the superior quality of our products to help your brand shine and achieve its goals. Reach out to learn more about how to level up your display graphics or to get an order started for your next project.