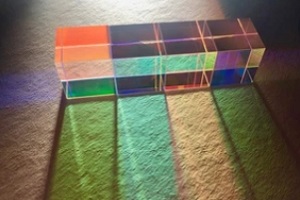 As you decorate your space, what are the interior design elements that first come to mind? Perhaps you're thinking of new paint colors, chic wall art, fashionable area rugs and luxury furniture. Though these decorative elements can shape the style of your home or business, they are often outside of your budget.
Mirrors might seem like an unlikely decor choice, but they can add value to a space. A dichroic mirror can add color and visual flair. You can achieve the look of a dichroic mirror in two ways: the use of less expensive dichroic film or a mirror with built-in dichroic elements.
What Is A Dichroic Mirror?
Even if you have already considered mirrors as part of your design choices, you have likely never heard of dichroic mirrors because of their primary use in science and technology. This reflective surface falls under other names like dual-band mirror, dual-wavelength mirror, or dichroic reflector.
The word "dichroic" refers to a mirror's reflection or transmission of only two colors or wavelengths. Unlike the mirrors used in bathroom and dressing rooms, dichroic mirrors create a two-tone mirror image.
From one angle, you may see a pink tint over your image; from another angle, the tint may appear yellow. The dichroic mirror only reflects certain light wavelengths. They can be customized to feature any two colors of your choosing.
Locating the ideal dichroic mirror can be a challenge because of its principal use in scientific applications. Certain scientific processes use dual-band mirrors because of their ability to separate certain light wavelengths in the creation of photographic images.
Best Places To Use A Dichroic Mirror
Creative implementation of dichroic mirrors can add light and fun to a variety of spaces. Your personal vision is the sole limitation. That said, dichroic mirrors work better for some design scenarios than others.
First, it might be helpful to note that light exists in visible and invisible wavelengths. You may find it useful to focus on a mirror's reflected light in order to illuminate a specific object or area. For this reason, dichroic mirrors are often used for illuminated displays because their bright and colorful light is ideal for drawing the eye's attention to specific locations. They also avoid casting deep shadows, unlike the light cast by light bulb sources.
Keep in mind that when using dichroic mirrors in place of lightbulbs, they may create heat due to their ability to reflect infrared light. Dichroic mirror manufacturers found a solution for this and created special varieties that prevent overheating. Depending on what you would like to display and highlight in your space, this may be an important concern.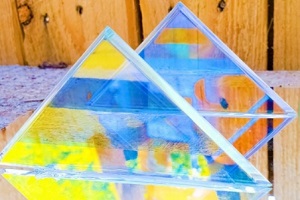 Beyond applications like heat elimination, you can use dichroic mirrors in a number of home design scenarios. Consider the benefits of a mirror for adding light to a space. Dichroic mirrors can brighten a small or dimly lit room with their colorful reflections.
Even in large, well-lit spaces, employing a reflector may add a unique visual appeal. Dual-band mirrors reflect light in entrancing ways, splashing a room with color. If you have a large space that needs a little something extra, a dichroic mirror may be just the thing for you.
Remember that the look of a dichroic mirror can be captured through the use of less expensive dichroic film. You can use dichroic film to convert normal mirrors into dual-band mirrors, which means you can apply dichroic film to a mirror that you already own but want to spruce up. Ask a professional about having your dichroic mirror or film cut in custom shapes that work for your space.
Trust the Experts to Help You Customize the Perfect Mirror for Your Space
It can be stressful to make decisions about your interior design. Even if you've used regular mirrors for past interior design projects, you might still have questions about how dichroic mirrors can help. The design experts at Tree Towns are proud to help clients achieve their dream designs. We have customized wall coverings and decorations to fit every need, and we'll work with you to solve even your most challenging design questions. Reach out to learn more about our services and to find dichroic mirror options to suit your space.