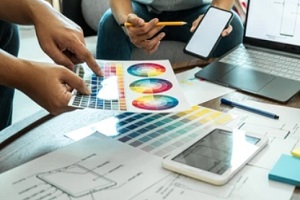 You want people to know who you are and what you do as a business. One way to establish your business identity is by maintaining a consistent brand image that consumers can easily associate with your industry. If your business does not already use a branded graphics, now is the time to get one. You may not be familiar with the term "branded graphics," but as a business owner, it is helpful to know what this term means and how a branded graphic can help your business to grow and succeed.
What Is Branding?
As a business owner, you already know what sets your business apart from similar industries, be it creativity, dedication to customer satisfaction, or fostering a family atmosphere in the workplace. Employees or customers who enter your business may not notice those qualities right away. Display a branded graphic inside of your building, however, and it becomes clear what makes your business more special than its competitors.
A well-designed branded graphic is a visual strategy that can quickly communicate your business identity to prospective customers. The design you choose for your branded graphic becomes a promise to customers about what your business can accomplish for them.
Branded graphics can include visual elements like a logo—the single element most commonly associated with the term "branded graphic"—but it also includes strategies: how you and others talk about your company, or how and where you advertise your products or services.
The more consistent your use of branded elements, the more likely customers will be to think of your business's products or services over those of other businesses. That is why it is important to develop a consistent vision for your business's mission, tagline and voice. When these elements work together, your branding will bring in more customers.
What Is A Branded Graphic?
A branded graphic is a steady visual representation of your company's culture and identity. These images show your clients who you are. Many businesses define their brand by sticking to a singular logo, color scheme, typography, and uniform imagery. This encourages people to associate those consistent visual cues with your particular business. Branded graphics can keep your company at the front of customers' minds even when your business name is not used.
You may see certain colors and automatically associate them with your favorite fast food establishment. You may see an image or logo and know immediately what that brand sells. This is the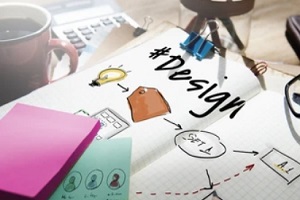 power of a branded graphic. When customers see consistent, particular design components used in repetition, they remember your business – and are more likely to buy from a brand they recognize.
You can implement branded graphics almost anywhere, from displaying your business logo as a window or vehicle decal to incorporating a branded color scheme and design in your building's interior design elements.
Why Do You Need Branded Graphics?
A branded graphic offers many positives for your company. Failure to use branded graphics, by contrast, is rarely beneficial and can even harm your business in certain scenarios. Here are some reasons you need branded graphics for your business:
Trust: In an era where every business has a branded graphic, buyers are less likely to trust businesses that do not use branded graphics
Brand Recognition: Your image will appear in every facility you operate. A great design makes your brand memorable.
Advertising: When you work on drawing in customers or spreading the news about a particular company event, your company's branding polishes the look of your advertisements.
Employee Appreciation: Employees of your company want to know who they're working for. Signs and other branding in the office present a coherent message.
Loyal Customers: Branding shows you are loyal to your industry, which will make customers loyal to you.
Identifying your business through strategic logos and icons helps your business to succeed and grow. Customers and employees both appreciate a dependable image.
How Do You Use Custom Branded Graphics?
You may have been told before that branded graphics could help your company, and so you have created a design—but now you wonder about the best way to implement it. You can use your branded graphic almost anywhere: business letterheads, social media profiles, your company website, advertisements, signs, even your building's interior design. Since logos are now digital, online uses are the most obvious. You may not think to use the graphic on your property, which is where custom graphics printing can come in.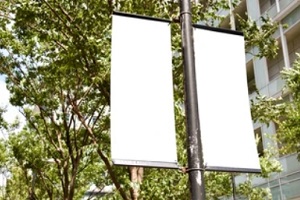 Signs and banners are two common uses for branded graphics. Customers and employees appreciate walking into a business and seeing an image that is consistent with how they view the company. Using branded graphics on signs and banners creates a uniform perception of your business, from the front entrance to offices, meeting rooms, bathrooms and break room facilities.
Trust The Experts To Provide The Highest Quality Graphics
If your business needs a new branded graphic or you're developing one for the first time, be sure to trust a company that can produce unforgettable designs. The experts at Tree Towns would be happy to help you realize your brand's vision. Reach out today to learn more or get started with a brilliant design your customers will admire.