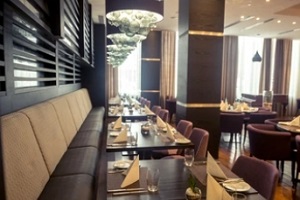 If you own and operate a restaurant, you may think that the toughest job is getting people through the door. The reality, however, is that the interior of your building matters just as much as the exterior when it comes to getting people to stay—and come back time and time again.
If you are looking for creative restaurant design tips to attract customers, the good news is that you have a lot of options that can all be tailored to suit your specific goals and desired mood. Consider the following options if you are trying to breathe new life into your restaurant and keep patrons coming back for more.
Utilize Custom Wall Coverings to Be Uniquely You
One of the best and simplest ways to stand out from the crowd and create a memorable perception of your business is to use custom wall coverings. These come with a wide variety of advantages, but perhaps what may come to mind first is the ability to utilize any design that you can imagine. With wall paint, you are limited to solid colors, maybe some simple patterns or paying an artist a lot of money to create something detailed with paint—which can chip, crack and peel.
In contrast, custom wall coverings can be printed with even the most complex designs, some of which may be challenging or even impossible to recreate by hand. Geometric and lace designs are some examples here. If you can imagine it, it can be put on a custom wall covering to create exactly the mood and tone that you are aiming for in your restaurant. Think having your brand logo or even your menu put up on your wallpaper!
And do not forget that wall coverings are no longer made like they used to be; nowadays, custom wall coverings are simple to remove and made of durable materials like vinyl that will not damage your walls. Instead, wall coverings can provide a good buffer against damage, such as customers knocking their chairs into your wallpaper.
Choose Colors to Guide Emotion and Perception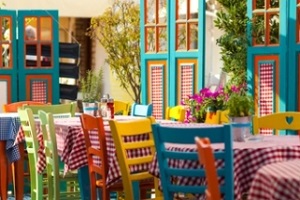 Psychologists have continued to demonstrate that colors can impact how a person feels, and you should keep this in mind for your restaurant too. Light colors create a sense of openness and happiness, where dark colors give the impression of safety, closeness and warmth.
Use these concepts to your advantage, both to influence your customers' mood and to create the right feeling. Crisp, contrasting colors that meet in stark lines often give a modern, stylish look, like the restaurant is clean and well put together.
Enhance Your Mood with the Right Lighting
The way that your interior is perceived has a lot to do with lighting. The type of lights you choose can alter how your wall colors are perceived and say a lot about what is important to you. Bright lights can work similar to bright colors where openness is concerned, whereas dimmer lights or lamps give the feeling of privacy and intimacy.
This includes the bulbs you use, as some bulbs will put out warm, orange light and others bright, white light. Remember that you have access to everything from floor lamps to chandeliers when it comes to realizing your vision within your restaurant space.
Choose Innovative Surfaces to Bring Texture and Life
Custom wall coverings are not only limited to colors and patterns. You can opt for textured wall coverings that imitate much more expensive materials like wood or stone for a fraction of the price—and significantly less long-term maintenance.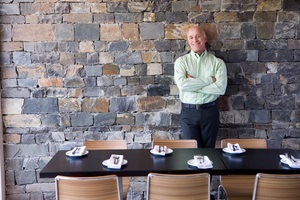 Using custom textured wall coverings instead of choosing textured painting means that your surfaces will be easier to clean and will sustain less damage; where paint may chip or the design can be damaged, wall coverings are resilient. And perhaps best of all, if you decide to update your wall coverings, the process is simple.
Trust the Experts for the Highest Quality Wall Coverings
At Tree Towns Imaging & Color Graphics, we understand that getting the look and feel of your interior space just right can feel like a big commitment. This is why we stand behind making products that are of the highest quality, so that your decisions can stand the test of time and fulfill your needs for years to come.
Whether you are excited about a specific vision for your space or you feel lost and need help with restaurant design tips to suit your needs, Tree Towns would be happy to help you acquire the perfect custom wall covering for your restaurant. Reach out to discuss your vision and learn more about your options.