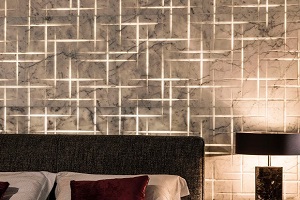 Businesses and homes often tread the same waters over and over when it comes to interior decoration. New paint, additional wall décor and adjustments to furniture can only go so far to change the aesthetic of a space.
As a fresh alternative, consider backlit wall panels as another option that can not only improve the look of a room but also contribute greater ambient lighting and completely change the tone or theme.
Backlit wall panels have a wide variety of advantages that are not present in other decorations like mirrors, and using them effectively does not require much effort. Here is what you should know about why and how to use backlit wall panels.
Why Use Backlit Wall Panels?
Backlit wall panels are a superior option to many other types of décor for a variety of reasons. These include:
Flexibility – Backlit panels are flexible, and we mean that in both their customizability and their physical properties. They can be created in a wide range of colors and shapes to suit any space. Additionally, they are typically flexible due to their composite material, so backlit wall panels can bend or flex around corners and curves. This helps to achieve coverage in spaces where other rigid décor does not fit.
Efficiency – The backlighting from a wall panel increases ambient light in a space at a fraction of the cost of a light bulb. This is so effective because the light is carefully diffused, covering a wider area more evenly while using smaller lighting fixtures. Because panels can also be installed in smaller or narrower spaces, lighting becomes simple and cost-effective.
Resiliency – The materials from which backlit wall panels are made are much more difficult to damage than most other decorations. Glass, for example, provides a compelling sheen, but it is highly susceptible to scratches and impact damage. Backlit panels, on the other hand, are made of clear acrylic that can bend, flex and bounce back from an impact. The acrylic does not change shape or density based on temperature either.
Weight – Acrylic backlit wall panels are very light, which makes them easy to install in locations that do not have the proper supports for something more substantial. Setup is quick and poses very little risk to installers, which means that many backlit wall panels can be installed yourself without using expensive and complicated tools. Not every wall is a load-bearing wall, and backlit panels are good choices for those that are purely decorative.
Using Backlit Panels Effectively
Thanks to all of the advantages listed above, backlit wall panels are growing in popularity. However, using them to the greatest effect requires some careful consideration. To effectively install backlit panels in your space, remember to:
Keep the panel centered in focus – Remember, there will be some illumination radiating from the edges of a backlit panel. Be sure to install this type of decoration in a place where the panel edges are not in an uncomfortable location for people's eyes. For example, if the bottom edge of a backlit panel is at eye level for customers sitting at your bar, they might find the bright strip bothersome, even if they are not intending to look at it. Backlit panels are best used when the illuminated edges can fade into the background of a scene, with the center of the panel more clearly in focus.
Cover difficult spaces – One of the biggest advantages of backlit wall panels is that they are often highly adjustable. They can bend and fit around difficult-to-decorate spaces like columns. This makes them effective at transforming your space in a way that other décor cannot. To use them effectively, dedicate them to areas where they are accomplishing a unique job.
Blend or contrast – Backlit panels are customizable, which means that you can create something that fits seamlessly into your space. However, do not forget to consider how powerful contrast can be. Choosing contrasting shapes or colors can draw more attention to your backlit panels and change how people perceive the room. Guide their eyes according to what you want them to look at first.
Get Custom Backlit Wall Panels from a Reputable Supplier
Backlit wall panels can completely revitalize a space and, when used strategically, draw visitors' eyes directly to where you intend for them to look. This is a powerful tool for businesses especially, in addition to the many other advantages unique to backlit wall panels.
At Tree Towns, we provide customization for backlit panels to suit any space. Contact us to discuss the goals and vision you have for your building or to get started on a customized order for backlit wall panels that suit your needs.