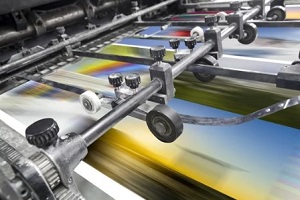 Printing services provide opportunities for individuals and businesses to create something that fits their needs down to the most minute specifics, such as Pantone colors and pixel-perfect sizing. Printing words or high-resolution images may seem simple, and it can be with the help of experienced professionals.
However, as with any field, there are nuances and differing methods that impact the process. Here are some of the primary differences between digital printing and offset printing, including how to determine which option suits your project the best.
The Differences Between Offset Printing and Digital Printing
The differences between digital and offset printing originate in how each method works. Offset printing is the modern descendent of the first printing press invented by Johannes Gutenberg in the 13th century. Offset printing is conceptually simple—it uses custom-made plates to transfer ink onto another material.
The simplicity of applying ink and reapplying it to a page makes it easy for the printing process to be repeated quickly. Offset printing results in clear and crisp colors, and the more hands-on approach to printing means that the prints can include embossments or finishes. This simple but effective method will work on many other materials besides basic paper products.
Conversely, digital printmaking is the method utilized by the vast majority of commercial and private-use printers. Personal printers and office printers are the most common examples. Digital printing eliminates the middleman that is required in the offset printing process.
Offset printing takes the ink, puts it on a plate, then applies it to a page or product, but digital printing streamlines the process and directly applies the ink to the paper.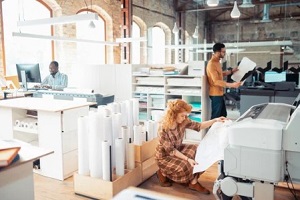 The two types of digital printers, laser printers and inkjet printers, differ in how they guide and adhere the ink, using either lasers or small, delicately placed droplets. Digital printing allows for a user to work quickly and adjust their product and design without having to alter a plate, meaning faster, more malleable work.
Which Printing Option Is Right for You?
In many ways, offset and digital printing options are opposites of each other. Offset printing allows for the user to change the ink, finish and embossment, but the printing plate only permits one image to be produced without requiring the process to stall for a time-consuming change.
Digital printing allows the user to change the content of their prints at high speed, which opens the door for experimentation and redesign; however, the inks are limited to whatever is standard for a given printer.
Thus, the suitability of each printing option depends on the situation and on the person looking to print. Offset printing has the most obvious advantages in terms of cost and color opportunities. It can produce thousands of identical images very quickly, and when bought in bulk, the cost is far cheaper than digitally printed products.
However, offset printing can be time-consuming with the work required to create a plate, and it becomes much less cost-effective when products are not printed in large amounts. When only a small number of prints are needed or the design is subject to change, digital printing may be the more suitable choice.
Digital printing finishes print jobs quickly and without the significant price tag for projects that are not printed in bulk. Additionally, digital printing provides the opportunity to alter the image between prints, allowing for experimentation and access to unique pieces—such as table numbers for an event or name tags.
However, for large orders, digital printing can be expensive, and there is less variety in size and ink. Customers may also notice a subtle difference in vibrancy between the two printing methods.
Generally, offset printing provides more vibrant colors, with digital printing's limited ink options resulting in comparatively less varied shades. Additionally, some digital printers may cause smearing. Whether or not these issues are a problem for a specific print job will come down to the application for that job and client preferences.
Get High-Quality Offset and Digital Prints from the Pros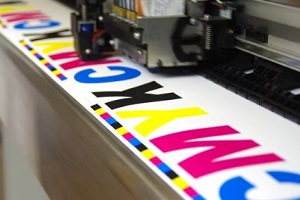 Achieving a high-quality printed product can feel overwhelming for those not familiar with the many options that make up the print industry. Digital printing is more accessible and commonly understood, but offset printing could level up graphics and help businesses achieve new visual fidelity in their displays.
Finding a company who reliably knows what process best assists in the creation of these products is essential. Tree Towns is proud to assist customers with achieving their vision and guide them on the appropriate type of printing for their needs. Contact us to learn more about the print styles that we offer or to get started on a custom printing order.