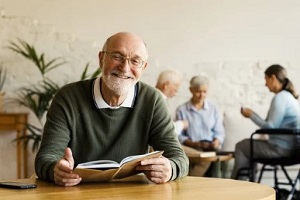 Senior living facilities provide older individuals with a place where they can prosper with friends and family while being cared for by experienced staff. On-site medical professionals help residents adapt to new living conditions, cooks prepare meals that fit with a variety of dietary needs, and invested caregivers offer fun activities.
However, at senior living facilities, residents are also faced with additional challenges that may go unnoticed at first. Older individuals might struggle to hear clearly, and all the effort going into maintaining the facility can contribute to a noisy environment, from clattering in the kitchen to multiple resident TVs played at higher than average volume.
To ensure that their guests can enjoy a comfortable quality of life, senior living facilities would be wise to consider acoustic paneling. Here's what these locations should know about how acoustic paneling works and the areas in which it may provide the most benefit in a residential nursing home context.
How Will Acoustic Panels Improve Senior Living Facilities?
Even though senior living facilities, long-term care facilities, and hospice buildings do not feature stereotypically loud events, noise can still be an annoyance in day-to-day proceedings. The largest of these facilities are like miniature cities, with a staff in the hundreds who offer enriching events that keep residents active and social.
These activities can produce noise that might distract others. For instance, kitchens that cook meals for hundreds of residents may be filled with clanking from the equipment and loud communication from the chefs. The medical needs of the residents are handled with on-site equipment that beeps and clicks.
And of course, the residents themselves will be making noise, such as listening to radios or having conversations in the hallway. Beyond what the nursing facility is filled with in terms of activities and people, the structure itself may contribute to troublesome issues with acoustics.
Buildings designed to accommodate so many people in close proximity will generally use modern techniques such as large, open spaces (including event or dining halls) that admit many residents at once. These areas will also create louder echoes as a result.
Linoleum tilework, which is common in large facilities that are facing regular spills and slip risks, can squeak when chairs are moved or walkers are pushed along the floors. And the HVAC systems required to generate a temperate atmosphere for residents will also create substantial noise due to the size of the facility.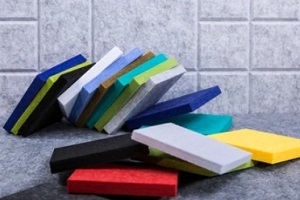 Acoustic paneling solves these problems by dampening the noise where it could be a hindrance. Wall paneling in larger spaces both insulates residents from the sounds outside the room, like adjacent kitchens or hallways, and simultaneously absorbs echoes from within the space, so residents can hear the people adjacent to them clearly.
Acoustic paneling on the ceiling has a similar effect, especially in areas where the ceiling is unfinished and open.
How Does Acoustic Paneling Work?
The effects of acoustic paneling are immediate, and the underlying concept that makes them so useful is simple. People's ears process sounds through reverberations in the air created by speech, movement, or any of an incalculable number of potential sound sources.
Echoes occur when these reverberations bounce off flat surfaces; the sound waves continue to travel through a space, bouncing instead of coming to a stop. Acoustic panels prevent this with insulation that absorbs the reverberations from within a room and from outside it.
Acoustic Paneling That Fits the Aesthetic Needs of Senior Living Facilities
The auditory benefit of acoustic panels is only one facet of their appeal within senior residences. The simplicity behind acoustic panels means that they are visually and aesthetically customizable. Adding acoustic panels to senior living facilities will contribute to the comfort of residents by improving hearing, but also by revitalizing the visual environment.
Nursing homes seek to be homey and relaxing for residents, and acoustic panels can add to that using colors, patterns, and designs that are suited to that specific space. Blue is commonly considered to be relaxing, and yellow or orange are energizing, for instance.
Acoustic paneling is easily integrated as decorative wall art, featuring engaging patterns and textures. Ceiling panels can add a soothing aesthetic that remedies unfinished ceilings, or they can utilize something with a more compelling design, such as baffled arrays.
Consider Acoustic Paneling That Fits Your Senior Living Facility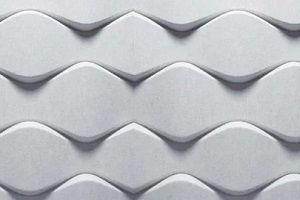 Acoustic paneling is beneficial to everyone, but residents of senior living facilities will be especially appreciative as they talk with their caregivers, friends, and family. Acoustic paneling is a functional tool that not only protects against noise pollution but enhances daily life.
The experts at Tree Towns have years of experience creating customized acoustic wall art that improves the auditory experience of senior living facilities while making them more beautiful at the same time. Contact Tree Towns to discuss how acoustic paneling could make your facility more pleasant while maintaining your brand image through colors, custom designs, and more.