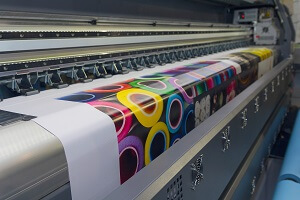 Graphics are a powerful tool to convey your brand or a certain aesthetic within a space. However, they can often be unwieldy or heavy due to their size and shape.
Making sure to hang your graphics correctly, not only ensures that they are displayed as intended, but also protects your walls from potential damage—not to mention the risk that a heavy installation could fall and injure someone.
Here's what you need to know about how to hang your large format graphics safely and effectively, depending on the space and what you have available.
Secure Hardware
Sometimes called security kits, secure hardware is any of a variety of metal anchors and frames that are affixed directly to a wall. Frames and brackets will be selected based on the size of the installation you'd like to hang, and these metal pieces are screwed directly into the wall.
As an additional benefit, these types of hardware contain locking features, which means that you're not just dangling a picture off a hook. Instead, the installation locks into the bracket, preventing it from being bumped and falling. This also discourages casual theft. However, it means that you will need to make some changes to your walls, including drilling holes for the screws.
Stand-Offs
If you need your large format graphics to sit a certain distance from the wall, stand-offs are a good choice. The barrel construction of these mounting tools keeps displays a set distance from other surfaces, and the display itself is lodged with a cap that keeps it between the cap and the stand-off barrel.
This allows for security even when hanging lightweight graphics. Stand-offs come in a variety of colors and finishes, from shiny steel to classy bronze, so you can choose an application that suits your existing décor and aesthetic.
Z-Clips
You may have heard Z-clips referred to as "stud cleats," and these metal brackets provide the option for flush wall mounting. Clips are installed onto the back of your large format graphic, and then they slot perfectly into opposite Z-shaped clips on the wall for a seamless mount.
Z-clips are sturdy and will not allow the graphic to be knocked down if something taps it or pulls on it. They are also invisible once the display is installed, so you don't have to worry about visitors noticing the hardware.
Stud Mounts
If you want to affix your graphic directly to studs in the wall, a stud mount is a good choice. This system works by attaching the graphic either to a plate that is affixed to studs or to studs themselves.
Metal rail bars can even be attached to welded fixtures on the back of the graphic, depending on what it is made out of. This application is most common for things like custom lettering that can be attached directly to a wall.
SEG Frames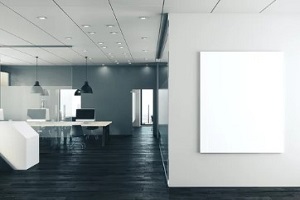 SEG stands for Silicone Edge Graphics, a specific type of graphic printing and framing option that creates three dimensional displays.
The graphic is printed directly onto fabric, which is then finished with a strip of silicone that is sewn directly into the edge of the display. From there, the graphic can be inserted into specific types of framing like aluminum extruded frames that are lightweight and can be hung seamlessly.
EZ-Wire and EZ-Rods
When large format graphics need to stand up on their own or they are particularly sizeable, it can be difficult to display them smoothly without having them bend, tip or bulge.
EZ-rods are useful for heavyweight displays and work together with EZ-wire to create a scaffolding that supports the entire installation. Rods and wires are adjustable in length and weight capacity, so you can create a support structure no matter the size of your piece.
As an additional benefit, some types of EZ-rods are adjustable, swiveling on a round joint head so that they can be oriented in whatever direction you need. This is especially useful for displays that are not a traditional shape.
Trust the Pros to Help You Hang Your Graphics Properly
Hanging your large format graphics correctly can make a big impression on your guests and visitors. Seamless installation makes your space look professional and more open rather than cluttered and low-budget. However, the right hanging tool for your needs will depend on the graphics that you are using.
The experts at Tree Towns specialize in helping businesses print and display their large format graphics no matter the size. Reach out to learn more about how we can help you hang your large format graphics or to get started on an order for the EZ-rods and EZ-wires that you need.