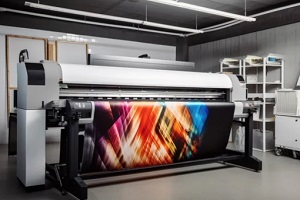 Wide-format printers are far more versatile than the average machine. The print roll of these machines has a width of eighteen to a hundred inches, enabling them to create graphics that are far larger than what an office machine can print.
Print rolls with widths that exceed a hundred inches are called super-wide or grand printers. Wide-format printers are used to create posters, banners, vehicular decals, wallpaper, schematics, murals, and more.
While the size of the product is impressive, it is important for businesses to remember that size alone does not make a graphic great. Personal posters and decals need more artistry than just scale, and advertisements and large promotional materials must use other techniques to stand out and keep viewers' attention.
Here is what businesses need to know about how to maximize the utility of a wide format printer through advertising techniques that make their designs stand out among the crowd.
What Printing Techniques Do Wide-Format Printers Offer?
The exceptional features of wide-format printers do not begin and end with the width of the print roll. Wide-format printers are conducive to dozens of different printing types and methods.
While smaller, less versatile printers are limited in what types of inking or substrate material can be used, wide-format printers function using numerous materials and with a wide variety of inks.
In addition, they offer different finishing and lamination options that stand up against the weather. All this, combined with some design pointers, allows companies to create ideal printed products. Some of the strategies that your business can use to stand out include:
Printing on a Variety of Substrates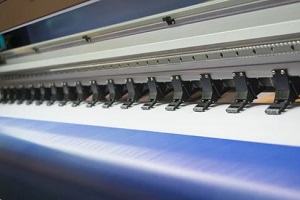 In printing, the substrate is whatever substance or material receives the ink. For an average printer, the substrate is a piece of paper. Not all materials are suitable substrates, as their surfaces might be resistant to ink, but there are plenty of materials that normal office printers cannot handle.
Vinyl is a popular substrate for wall and vehicle decals, as it can mold and take shape while still being resilient. Wood is another possibility, and an uncommon printing material can make the printed image even more striking.
The most crucial (and common) factor in determining whether a substrate can be printed on is not necessarily how it will respond to the ink correctly, but rather, if it can fit in the printer at all. And with its extra large printer roll, wide format printers can help businesses achieve unique looks on substrates that otherwise aren't possible.
Laminated Prints That Hold Up Against Weather
A printed product will be useful and draw the eye so long as its design remains visible and its colors stay crisp. Low-quality printers might make products that are stunning at first, but they quickly lose their features.
This is not an issue with wide-format printers, as they can laminate whatever goes through them. This lamination protects the graphic from water, so outdoor prints will stand up to the rain.
However, even nice weather can be hostile to prints; UV rays from the bright sun can drain the color from an advertisement. Businesses can keep their designs appealing by opting for proper lamination to protect their graphics.
Important Reminders for Attention-Grabbing Designs
The most important part of a product is not the ink or the substrate—it is the image created when both work in concert. Companies can create their own designs to work best for their own purposes, but there are still some universal factors to keep in mind.
When making an advertisement, it may be tempting to use the generous size of the product to communicate facts about a business. But when these facts are communicated with words, it is easy for them to be forgotten, ignored, or misconstrued.
People are so used to words that they often go unnoticed. Images are always more striking, so any text should supplement images rather than serve as the focal point.
Additionally, keep large prints from becoming cluttered by remembering how the eye will be drawn across the image. Open space may seem like space wasted, but it contributes to the whole design and emphasizes what is still there, making it easier to parse.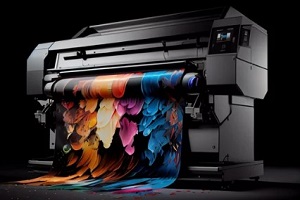 All the work that goes into a design is moot if no one gets to see the print. How the product is seen and staged is as much a component of it as the ink or substrate. When preparing to put up a graphic, think about how viewers will see it. Make sure that the angle fits the viewing position and guards against glare and shadows that might obscure it.
Make Your Wide Format Print Designs Stand Out with Professional Help
People who work with wide-format printers understand the variety of products it can produce and the powerful effects such graphics can have on viewers.
The experts at Tree Towns can help you realize your wide format printing vision by utilizing techniques that will make your design stand out. Contact Tree Towns to discuss your goals or get started on a custom graphics order.