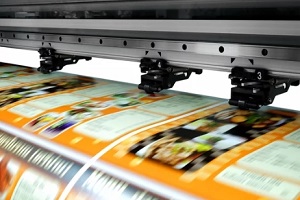 In the modern day, many people assume paper products are being left behind in favor of digital products and technology. Businesses advertise on the internet and on social media and therefore don't need to bother with older methods of growth and outreach.
However, while the online era provides interesting new ways to market, it has yet to match the tangible impact of physical media. People live in the real world, and paper products give them something they can touch, hold on to and engage with in space.
Additionally, physical media serve a purpose in architecture and construction. If businesses have any doubts about the effectiveness of prints, they should investigate wide format printing services, which can offer more impressive products at reasonable prices.
What Does Wide Format Printing Mean?
Wide format printing refers to the products of a printing machine with a maximum roll width of a hundred inches, which allows the printer to print both larger images and smaller images at a higher rate. Larger printers with widths above a hundred inches are sometimes called super-wide or grand format printers.
The size and speed of these printers make them more economical for high-volume projects than the use of standard printers, which are not equipped for the scale or technical needs of large-scale printing.
Companies and businesses can utilize printing services to produce posters, wallpaper, informational graphics, vehicle image wraps, electrical schematics, blueprints for construction, theatrical backdrops and other large-scale promotional materials.
Beyond size, wide format printing also offers more variety in materials and inking methods than what is conventionally available in office printers. Rather than being limited to standard printing materials, wide format printers can use a variety of solvents and substrates to enhance the desired image.
The Benefits of Wide Format Printing
Wide format printing is a wise investment for a variety of reasons. These include:
Image Quality – Alongside their larger size, wide format printers boast more technological robustness when applying images and dyeing prints. The computation capabilities of wide format printers allow for higher DPI and resolution. DPI, or dots per inch, is a measure of how many pixels are used to express an image. The more pixels, the more detail in the print. In addition to this detail, wide format printers improve the vibrancy of the colors they use. These printers can even use laser printing technology better than their smaller counterparts and enhance the quality of the colors used.
Production Speed – Wide format printers have a higher speed capacity than standard printers and allow users to maximize the number of projects they print and the speed at which they receive them. These printers are usually evaluated in terms of inches printed per second, and the highest-end printers work at six to seven inches per second. For context, that's one-fortieth of the time it would take standard printers to do the same job. Companies who rely on professional printing services can expect quick results on even the largest projects.
Durability – Wide format printing is durable in two senses. First, the physical printer itself is a durable and sturdy piece of equipment—which means that businesses purchasing graphics from a reliable printing company will not have to worry about delays due to damage or malfunction. Second, and perhaps more importantly, the products created with wide format printing are durable against the elements. This is due to the variety of finishing materials used in the printing process. Posters, banners and other graphics can be laminated as they are printed. Laminated paper products will be resistant to water, and their colors will be resilient against damage from ultraviolet light.
Versatility – The final benefit of wide format printing is an amalgamation of all the previous benefits, as they can be combined and reconfigured to fit the requirements of many projects. The printers are equipped to work with dozens of unique materials and paper types. Businesses can print large schematics for a construction job on inexpensive paper, but they can also purchase high-quality banners with vinyl printing and bright coloring that will stand the test of time. The DPI and resolution settings can change to reflect the sizes and needs of a given project as well as a business' budgetary constraints.
Get High-Quality Large Format Prints to Fit Your Needs
Wide format printing can equip businesses to succeed, whether they use the resulting graphics to create blueprints and electrical schematics or display them as advertising.
At Tree Towns, we customize each print to the needs of our customers using versatile printing practices and efficient production machinery.  Contact us to discuss your vision for your next wide format print graphics or to find help getting started.