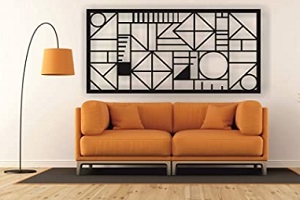 You can change the color of the paint on your walls, or even add a few potted plants – but those are not the only ways to spruce up a room that's long overdue for a facelift. If you are trying to think of ways to boost the visual appeal of a space or give it a certain quality, acrylic wall art can likely help.
And best of all, this type of product is customizable, so you can choose exactly the aesthetic that you are aiming for, whether that is a pattern that aligns with your existing design or a brand logo that draws attention.
Once you bring your acrylic wall art home, there's still the task of trying to hang it. Here is what you will need in order to safely and securely set your art up in its chosen location.
What Acrylic Wall Art Can Do for You
Before you place your order for acrylic art, be sure that you are prepared and know what you want the final product to look like. Consider the purpose of the room where you plan to hang the art, and use that information to determine what type of visuals would best suit the space.
This could include personal photographs, or it could also include custom artwork or designs. The fact that acrylic wall art is customizable means that it can be adapted to a person's individual taste and needs. Once you feel confident in the location and content of your acrylic art, it is time to prepare for hanging.
Hanging Acrylic Wall Art
There is more than one way to hang acrylic art. Your interior space, as well as the dimensions of your chosen artwork, will factor into what hanging method you should use during installation.
1. Hanger Plates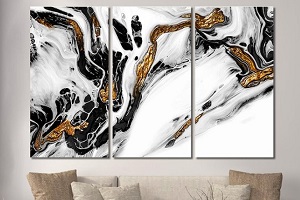 For smaller acrylic art, hanger plates are a popular option. These bars come with an adhesive on one side that is attached to the artwork. Then, the bar sticks out from the back of the acrylic wall art, allowing you to rest the art on hooks, nails or another type of hanger that you have installed.
Many people like this option because it creates a "floating" look to your artwork, suspending it slightly away from the wall. However, hanger plates are best for smaller acrylic wall art, since their resilience will be limited by how sturdy the wall is where the bar is hung.
A painting that is too heavy can pull the hooks out of the wall. Since acrylic art is coated in a glass-like material, it is heavier at smaller sizes than something like canvas.
2. Backing Frame
For larger pieces of art, consider having an aluminum backing frame attached to the work before it arrives. This frame is made up of four aluminum bars, each of which has a hollow section on its underside. This allows you to rest it on French cleats or another sturdy hanging implement in your wall. The frame is also useful to stop warping and distortion across large artworks.
Things to Keep in Mind with Acrylic Art
Acrylic art can truly change the mood of a space, and because it is customizable, it can do so in any way that you choose. This means that you can be quite strategic with how your art is used. That being said, there are a few things you should know about acrylic art before you commit to a large piece:
It should not be installed in direct sunlight. Due to the reflective acrylic coating on the artwork, you may experience some glare if you hang this type of wall art directly in the sun.
It can scratch or chip. Be sure to install the art high enough in the room that it will be protected from potential damage such as chairs being backed into it.
It can be heavy. The acrylic coating adds weight in addition to the piece itself. Be sure that you install any hooks or hanging implements into studs in the wall rather than the drywall to ensure the painting hangs successfully.
Trust the Experts to Help You Realize Your Vision for Your Space in the Highest Quality
If you are ready to explore your acrylic art options or get started on a custom order, be sure that you entrust your artwork to the professionals who offer the highest quality.
The experts at Tree Towns would be happy to help you secure the perfect artwork, regardless of whether you already have a design or need some help. Reach out to learn more or to get started with your acrylic wall art.