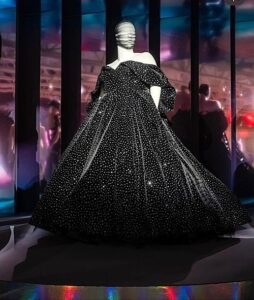 Taking inspiration from the example provided by Trang Vu, Tree Towns' design department got to work on mimicking an iridescent finish while retaining a highly reflective surface. Usually, this is not achieved on acrylic due to its properties that reduce visual clarity on its reflected areas.
By implementing a dichroic-style color gradient, Tree Towns was able to achieve this clean and colorful aesthetic. And the results were received with great enthusiasm by Trang Vu and the entire SCAD team.
How Do Dichroic Mirrors Work?
Dichroic mirrors are a type of display that you've probably already seen before, even if you didn't realize it at the time. They are sometimes called "living" glass installations because they can look like they are moving and changing as you change your own position relative to them.
This occurs because the material transmits light, selectively diverting or spreading certain infrared or visible colors to achieve the desired outcome. Usually, the material will refract two colors and absorb or deaden all other hues.
In the end, what results is a piece of glass that seemingly changes colors. As a viewer moves around the dichroic mirror, the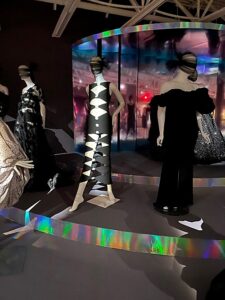 reflection within the glass will change and shift in hue due to the positioning of the light waves and the elements of the mirror itself.
The word "dichroic" comes from "two" and "colors," so the most common application for this type of mirror is for someone to choose the two colors that they would like to be displayed in the mirror.
These are the colors that will shift and change as the viewer moves, and which colors are selected is up to the person who is buying the dichroic material. Tree Towns' dichroic mirrored acrylic took on this adaptive role for the SCAD project without the need to use glass as a reflective surface.
Applications for Dichroic Mirrored Acrylic
One of the biggest challenges that Tree Towns faced when tackling this project was the fact that dichroic material is usually made for mirrors. Changing the substrate to an acrylic application posed a new set of difficulties, but it was nothing that the team couldn't handle.
The best way to create a dichroic effect on acrylic is to bond the acrylic with iridescent film–which was an important consideration for the SCAD project so as to avoid adding a lot of unnecessary weight to the display.
Another challenge that comes with acrylic applications of dichroic film is the reflectivity of the material. When dichroic mirrors are made, they retain most or all of their reflective nature because they're mirrors.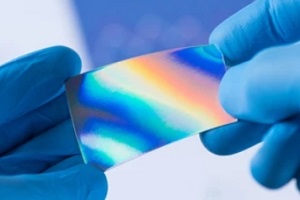 When working with acrylic, however, it's important to be cognizant of the quality of the acrylic itself to ensure that the reflective finish remains. Otherwise, the final dichroic result could come out foggy or lacking the pristine detail that an installation in the Museum of Art would call for.
To tackle these problems, Tree Towns innovated beyond the standard iridescent film. Instead, we created a mirror finish that achieved the dichroic look while maintaining a crisp, clear reflection. Our team was up to the challenge and is thankful for the opportunity to explore new and exciting visual decoration options to meet our clients' needs.
The Experts Helped the Savannah College of Art and Design Achieve Their Vision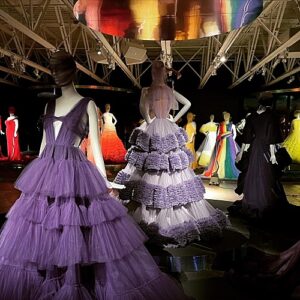 Our acrylic dichroic work was exactly what the Savannah College of Art and Design was looking for to achieve their vision, but that doesn't mean that what we do is limited to installations in museums.
Whether you need assistance with an art project of your own or would like help navigating large format printing and other difficult aesthetic installations, our team is ready to help. We work hard to provide high-quality, customized printed products that suit your needs and stand the test of time when displayed.
For businesses, this can mean anything from advertising graphics, banners and signs, to interactive displays and custom prints with logos and brand identity. For personal projects, Tree Towns can help to unify your space or achieve the finish and texture that your project calls for.
No matter the challenge you're facing, reach out to Tree Towns to explore your options or discuss your vision. We can help you navigate the process to achieve a final product that suits your needs.