Printing high-quality graphics is one of the most important things that a business can do to market its services and represent its brand authentically. However, many of these printing projects far exceed the scope of the normal commercial printer that an office might use to make photocopies and print documents.
In cases like this, a professional printing service is required, not only because they have the expertise to execute an idea but also because of their access to a wide format printer or large format printer.
If your business has heard of these terms before, you likely feel uncertain about what the difference is between them and which one is right for your project. Here is what you need to know about wide format printing and large format printing, such as how expensive the process can be and how to tell the difference between the two.
Are Wide Format and Large Format Printing the Same Thing?
The most common question surrounding wide format and large format printing is what the difference is between them. In reality, they are almost identical—wide format printing is simply a more specific descriptor of a niche within the larger umbrella of large format printing.
Large format printers are any type of equipment that can handle print jobs larger than what commercial printers can. The biggest in-office printers do not typically print larger than 8.5×14", though some can range up to 18". Anything bigger than 18" on a side constitutes large format printing.
Within this niche, wide format printing refers specifically to images that are longer than 18" and range up to 100". It all has to do with the size, not the print quality, style, or what material the image is printed on. This means that businesses will not need to pick between wide format printing and large format printing; in this sense, they are the same.
Is Wide Format Printing More Expensive?
The next question that businesses tend to have is whether they can afford wide format printing compared to creating graphics themselves. In some cases, relying on a wide format printer is unavoidable, such as if the project scope is so large that there is no feasible replacement for a sizable graphic.
However, companies do not have to stress that wide format printing is out of their reach. There are many variables that impact the final cost of a wide format printed graphic, and by carefully adjusting these metrics, businesses can more easily control the budgetary commitment.
For example, images with greater droplet size will cost more because each droplet of ink is larger and uses more ink as a result. If an image is going to be displayed up in the air instead of at eye level, viewers will not be able to see how big or far apart the droplets are as easily. This can be an effective means of reducing the cost.
Similarly, printing in grayscale is cheaper than printing in color, and even when color is required, utilizing a 6-color printer is less expensive than printing with a 12-color machine. An expert can help you navigate all the considerations that will impact the price, from printer and ink type to substrate.
Uses for Wide Format Printing vs. Large Format Printing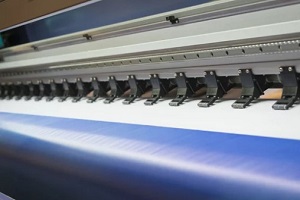 Wide format printing is one of the most common marketing tools that businesses use worldwide. Everything from oversized banners to window or wall decals is crafted from a large format printer. This makes marketing the most frequent use case for wide format prints.
However, many industries have their own unique uses for wide graphics. Theaters may use wide format printing to print the backdrops they use in their shows, while construction firms will print architectural designs or electronics schematics.
The use of a wide format print is just as unique as your business and the work that it does, which is why it is helpful to work with a print company that can create custom prints. They can help you generate a graphic that matches your brand vision and image while fulfilling the use cases that you have in mind, all within the scope of your budget.
Get High-Quality Prints from the Pros
If you would like to explore wide format printing, you will achieve the longest-lasting and highest-quality results if you work with experts. At Tree Towns, we work closely with our customers to create customized designs that are perfectly tailored to their specific needs.
Contact us to discuss the goals and vision for your project or to learn more about the types of graphics we can create and the substrates available for printing in large format.