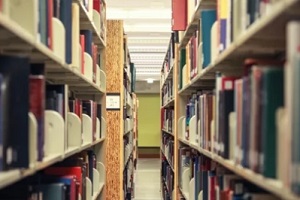 When people think of libraries, they tend to envision pinnacles of quietness, often enforced by strict librarians. For libraries to offer all their services, guests need to interact with the space without interruption from others. Readers want to be fully engrossed in the books that the library collects and maintains, and excessive noise can pull them out of their fictional worlds or non-fiction research.
However, libraries provide more than just books. They offer free internet access for the public, professional utilities such as computers and printers, and private study spaces where people might need to take calls or attend online meetings. Some of these services can contradict each other—the noise of a call might interrupt the quiet study needs of nearby students, for instance.
To ensure the satisfaction of all guests, libraries would be wise to install acoustic art panels that both reduce sound and also enhance the library experience through customizable artwork.
What Are Acoustic Art Panels?
There are plenty of cost-effective ways to soundproof a space efficiently. Acoustic paneling is simple in practice, using soft, absorbent boards and fabric to stop wound waves from bouncing around a room and causing echo or loud noise. Panels that hang from the ceiling are called baffles, and they function similarly.
Special insulation can halt sound transfer from between rooms, but this insulation ignores the artistic opportunities of custom-designed wall panels with art to stimulate creativity. Acoustic art panels are specially made to hold artistic designs like logos, iconography, or actual pieces of art.
Acoustic Paneling Can Help Enhance the Library Experience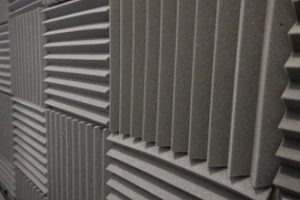 While the presence of acoustic paneling may not be obvious to guests, their absence usually is. Efficient soundproofing allows library guests to utilize the space their way without unknowingly interfering with other guests.
Some guests will be using study spaces for professional purposes, which could include discussing issues with coworkers or conducting online meetings and interviews containing sensitive information. Other guests want a quiet space to read and become fully absorbed in their work or hobbies, and these people may be sitting near each other in the space.
The use of printers and library equipment could also be disruptive, and libraries often function as hosts for public events or gathering places for people without safe spaces. In the summer, children attend events with public figures or entertainers who promote reading.
In the school year, students who can't go home after school can gather with their friends or invest in fun, educational material. However, the application of acoustic paneling can create private sanctuaries devoid of the echoing noise of bare walls. The sound waves produced by these myriad activities are absorbed by the panels rather than reflecting back into the room.
The Artistic Potential of Acoustic Panels
Acoustic paneling is effective for the auditory experience, but libraries may overlook the opportunity they present for visual and artistic expression. Wall panels can be completely customized with images that fit the tone of their placement.
This can be especially useful for libraries—it's easy to imagine the potential of decorating different spaces to fit their respective genres. For shelves dedicated to science fiction and fantasy, acoustic panels with fittingly fantastical and otherworldly images would be ideal.
Mystery fiction can be designated with iconic detectives, magnifying glasses, and fingerprints. Consider using panels as both sound-dampening devices and also navigation signs to help patrons find their way to their preferred section!
Artfully designed acoustic panels solve the paradox of bringing small children to the library as well. Parents want to nurture an interest in reading from an early age, but they do not want their children to disturb other library guests.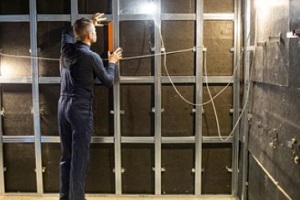 Bright wall hangings with fun characters and engaging designs can make children excited while simultaneously eliminating acoustic evidence of this excitement. Instead of perpetuating stereotypes about librarians who monitor their guests and shush them harshly, install soundproofing materials and create an intuitive, comfortable space that encourages patrons to come back.
Install High-Quality Acoustic Art Paneling with a Reputable Company
Libraries belong to everyone. As a public resource, they provide utility for any person who decides to walk in. Libraries hold thousands of books, movies, and music, while also providing spaces to gather and study, internet access, and equipment for professional use.
It seems like a tall order to do all that quietly and without adopting a utilitarian aesthetic (and some very strict staff). However, acoustic art paneling makes libraries a comfortable place, no matter the goal of each guest who stops by.
The experts at Tree Towns create high-quality, customized acoustic art panels that suit the aesthetic and auditory needs of these specialized spaces. Contact us to discuss your vision or learn how to install acoustic art paneling to improve the soundscapes of your space.