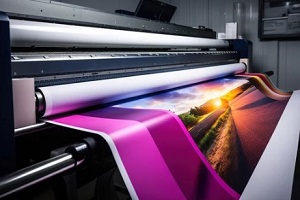 Printed graphics play a vital role in how a company does business, from the impressions it makes to the flow of an event and the eye-catching material it presents. However, achieving especially large graphics is not a possibility with conventional in-office commercial printers—even those that are wider than average. This is where wide format printing can help businesses to achieve the graphic fidelity that they need.
Wide format printers can transfer images onto a variety of substrates to achieve individualized goals, and they can tackle images substantially larger than consumer-facing printers are capable of. Here are four of the most common uses for wide format printers, including how businesses rely on these services to grow their brand reach.
Wide Format Print Advertising Material
One of the most frequent uses for wide format printers is the creation of advertising materials. Vinyl, fabric, and metal are just a few of the potential substrates on which large graphics and brand logos can be printed. When companies need to reach as many people as possible, creating images that are large and easy to see from a distance is critical.
Wide format printers tackle company graphics ranging from window decals and vehicle wraps to banners and signage for an event. This allows businesses to visually reach consumers who are viewing from a distance while maintaining a professional look that is not achievable with smaller prints that are attached together to create the big picture.
Wayfinding Graphics
Helping people to see brand logos and graphics from a distance is only part of the challenge for businesses. Next, the company must draw those viewers in so that they can participate, such as by purchasing a product or discovering a service that they may rely on later.
In crowded environments like trade shows, wide format printers can produce wayfinding graphics to ensure that visitors are correctly funneled to their destination.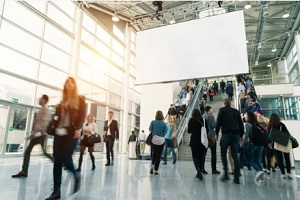 For instance, imagine that a customer enters a trade show and sees a large banner for a company that interests them. If they are unable to identify a path to get to that company's booth, or if they do not realize which booth belongs to the company, the business will lose a potential customer conversion.
Instead, wide format printers can generate banners, branded tablecloths, full-wall graphics, and even large pop-up displays that help customers locate the company due to their size and color fidelity.
Atmospheric Control
Many uses for wide format printing focus on converting visitors into customers, but such large graphics can serve additional functions as well. Instead of completely redecorating a room or purchasing expensive furniture and décor, wide format printers can create backdrops and custom wall coverings that completely revitalize the atmosphere and aesthetic of a space.
Being able to so closely control the pattern, texture, and color tone of a room or sector has important impacts on the activities that occur there; for instance, using wide format printing to introduce a brightly colored backdrop can give employees more energy and spur creativity.
Alternatively, providing an interesting backdrop for photos and events promotes your business as interactive, engaging, and memorable. It is a powerful way to make an impression without the need to directly advertise to people, tying your brand image to an event or memory.
Workplace Resources
Some businesses rely on large graphics as part of the normal course of their work, and high fidelity within those graphics is critical to ensure accuracy.
Construction firms, architects, and engineers who need to view CAD designs, floor plans, maps, and more all benefit from large graphics that are resilient and accurate in color and detail.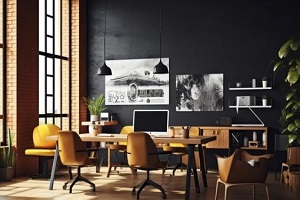 Wide format printers ensure that minute elements are correctly spaced and printed in a manner that is visible for all viewers and true to the original designs.
As an additional benefit, wide format printers can produce these graphics faster than many other types of printers, such as office printers producing the image across numerous pieces of substrate. Wide format printers operate efficiently so that businesses do not need to wait weeks or months for their designs to reach their hands.
Get High-Quality Wide Format Prints from the Professionals
Wide format printing can assist businesses in every stage of the consumer cycle, from first impressions through to maintenance of loyal customers. However, one of the biggest elements that impacts these impressions is the quality of the prints.
That is why it is critical to rely on high-quality custom printers who can produce long-lasting, visually beautiful graphics. The experts at Tree Towns can help you achieve your vision for your wide format graphic, whether you are a business in need of advertising materials or an art student innovating in a new museum installation.
Contact us to discuss your goals and begin your custom wide format graphic order.