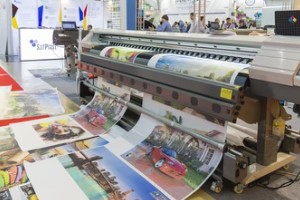 Large format printing is a powerful way to improve how people perceive your brand and to communicate your message across long distances. However, choosing the right type of large graphic can pose a challenge, despite it being in alignment with your goals and part of your budget.
Because large format printing requires specialized tools (like printers that can print up to 100 inches or more), there is much less ability to create samples that you can review before making a decision.
In order to make sure that your large format graphics align with the goals you have for your business or event, you'll need to think about not only the designs but the substrate on which your prints are created. Here's what you need to know in order to make that decision confidently.
What Is a Substrate Anyway?
The term "substrate" within the realm of professional printing refers to the material on which an image is printed. You might, for example, have an acrylic picture in a frame, but if the picture is simply printed on photo paper and sealed behind acrylic, the substrate is the photo paper—not the acrylic surrounding it. Other times, you can choose to print directly on the acrylic, which makes acrylic the new substrate.
The material that you choose to print on can impact not only the overall aesthetic of an image (by deepening colors, enhancing sharpness and more) but also the price. You'll need to balance these elements in order to determine which substrate is right for your business.
What to Consider When Picking a Substrate
When picking a substrate, there are essentially four things that you will need to consider:
Your budget – If you pick an expensive substrate, the price of the entire piece will reflect this. It can be much more expensive, for example, to print something on a large piece of solid metal than it is to print it on paper.
The ideal durability – In the previous example, you may be comparing metal and paper. Of course, metal can stand up to more physical abuse than paper can—even robust paper that's resistant to tearing and stains. However, metal is susceptible to dents and scratches in a way that paper is not. These aspects should be part of your overall decision.
The display location – Certain substrates perform better in specific places. For bright, sunny locations, you'll want to avoid something shiny that could cause glare.
The size – Some substrates just don't perform well at certain sizes. A towering metal sign can quickly become more of a danger and liability than you may be prepared for when a banner is much simpler.
Substrate Options for Large Format Printing
Keeping these considerations in mind, you can have a better idea of the substrate that fits into your goals. Some of the most common large format printing substrate options include:
Vinyl – Glossy or matte vinyl is more durable than paper and can even be applied to uniquely shaped things, like car exteriors or windows.
Paper – Nothing beats the affordability of high-quality paper for large format printing. However, paper is not the most durable, so it's best used indoors and treated with care when being displayed.
Canvas – For more art-centric presentations, canvas made of fabric can be used. This material has an appealing texture and is fairly durable, though it can become heavy in large applications.
Acrylic – Companies looking for durability may appreciate acrylic, which is harder than glass and can even make colors appear to pop more vigorously. However, acrylic is significantly heavier than paper and vinyl, so it should be used strategically and installed with care.
Ultraboard – If you like the appeal of paper but need a thicker and more durable product, ultraboard may suit your needs. This material is a foam core backed with paper or polystyrene onto which designs are printed. It's light and easy to install, but it won't stand up against outdoor weather for long.
Coroplast – This type of corrugated plastic display is light and water-resistant, so it can be used for outdoor applications. It's most commonly available in white, but you may be able to get it in other colors too.
Get Your High-Quality Prints from a Custom Supplier
Whether you've already decided on your next large format printing project or you're still envisioning an idea and considering your options, make sure that the graphics you purchase are from a high-quality provider.
The experts at Tree Towns can help you tackle the challenge of large format printing and advise you on safe installation as well. Reach out to share more about the designs you have in mind or to get started on an order in time for your next event.