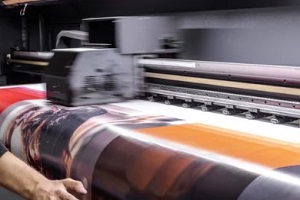 While many businesses rely on graphics and artwork to sell their image, few consider the power that large format printing can have over the impressions they make on customers. Large format graphics are those in excess of 36 inches on any side, with some prints ranging up to 100 inches or more.
These types of graphics require a specialized printer assembly, and so businesses don't often consider trying out these prints as frequently as they should. Whether you're hosting an event or in charge of a booth at a trade show, you can use large format graphics to your advantage.
However, capitalizing on existing trends can make your space seem even more appealing and adaptable. Here are some of the current large format printing trends that you should keep an eye on so that you can stay ahead of the competition.
Floor Graphics
One of the simplest large format projects to tackle among recent are floor graphics. Whether you're displaying your company logo under people's feet on the walkway to your booth or guiding them through your event space with arrows and signs, the floor has been an underutilized canvas until now. These prints can help keep the flow of traffic smooth and prevent confusion, which leads to increased engagement and confidence.
Natural Materials
Starting in 2020 onward, people have been more interested than ever in moving away from traditional print media and toward more naturalistic materials. Things like wood, stone and metal are popular, and they give the impression that your business is professional and staying on top of what's modern and appealing.
While the upfront cost of some of these materials can be slightly higher, they have a notable impact on the way customers perceive your company. Additionally, not all metal or wood options need to be expensive, and many are becoming more affordable as time passes.
Interactive Displays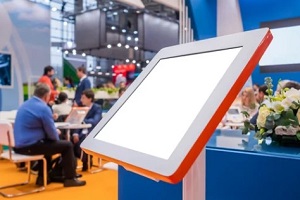 The union of technology with printed media has only continued to grow over time, and AI and other tech features have been trending upward consistently in the last few years. Now, businesses are relying on interactive displays to pique people's interest and appeal to them in the same way that their mobile phones do, with quick rushes of dopamine and curiosity.
Consider a scannable QR code to an interactive game that awards prizes to visitors or even a motion-activated display that captures the attention of those in the vicinity in a novel way.
Sustainability
Given the current state of the climate and rigorous, consistent talks about sustainability, it should come as no surprise that more people than ever are interested in not only what your branding says, but also how you create it.
Trends indicate that customers are more likely to trust your business if you work with sustainably sourced materials and reduce your environmental impact when possible.
Large format printing can waste a lot of materials, but new options like UV curing ink reduce waste and are better for the environment. The materials on which you print do matter.
Faster Turnaround Times
As people get used to online services like Canva to print their own products on demand, large format printing services have begun to adapt to keep up. Even these larger products are trending toward faster turnaround times, and as a business, you can take advantage of this to streamline your event planning process.
Extra Large Prints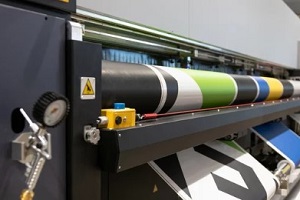 Another trend that seems to have taken the business world by storm is especially large graphics. In a world where so much distraction is competing for people's attention, one of the simplest ways to draw someone's eye to your business is by the actual size of your display.
Extra tall hoardings (a fence with a board or banner on it) and even entire building wraps are coming into style to capture attention from as far away as possible. While the price of these prints is reflective of their size, there is no arguing with just how visible they are—and their durability often makes them reusable, as well.
Trust the Pros to Help You Print and Display Your Large Format Graphics
Choosing the right large format graphic(s) for your next event or business refresher is just one part of the battle. You will also need to consider how to stay on top of emerging and existing trends and even how to hang your large format prints safely and in a way that draws people's attention.
The experts at Tree Towns can help you to navigate all of these challenges, offering high-quality printing services and installation assistance where needed. Reach out to learn more about how we can help you to capture trends or to get started on an order.