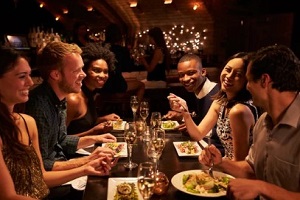 Restaurants are meant to be a place where parties can socialize, relax and enjoy themselves. Regardless of the type of restaurant you own and the food it serves, the ambience of the place is a big factor in whether guests will return for a second visit. Design and visuals are important, but so too is sound management.
Are guests having to shout to carry on their conversations? Are they often distracted by noise and looking around to see where it's coming from? These problems and more can be solved with strategic changes to your restaurant. Here are six of the simplest ways to reduce restaurant noise and improve the customer experience.
1. Use Cloth Where Possible
The primary reason that noise in restaurants has continued to increase in recent years is the shift in trendiness associated with large, open or reclaimed dining spaces. These are full of hard, flat surfaces that serve as perfect reflectors for sound waves, amplifying them and causing echoes. In order to dampen this effect, cloth can be a useful and simple tool.
One of the easiest ways to incorporate more cloth into your dining space is with tablecloths. However, not all restaurants have the space, design or atmosphere for tablecloths. Consider whether you may be able to utilize other items like curtains for both decoration and sound dampening.
2. Change Tabletop Styling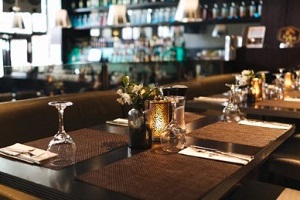 While tablecloths are just one option for using the eating surface itself to cut down on noise, the other elements on the table play a role too. The clatter of plates on hard surfaces and heavy silverware both contribute to noisiness. Simple changes like a switch to wooden utensils or even giving guests coasters and mats for plates can make a significant difference.
3. Invest in Sound-Absorbing Panels
One of the most popular ways to cut down on unnecessary noise in a restaurant is with sound-absorbing panels, often called acoustic panels or acoustic art panels. These panels are customizable, which means that you can design them with any pattern, photo, painting or logo that would suit your business. They also come in a variety of thicknesses and sizes, making them adaptable to your space.
Acoustic art is a noise-canceling panel in disguise. It is meant to be used as a system, so be prepared to purchase more than one so that they can work together. For the greatest effect place them at the level of the noise. For example, at eye level to dampen guest conversations, or across from problematic noise sources, like the entrance to the kitchen.
4. Add Textures to Walls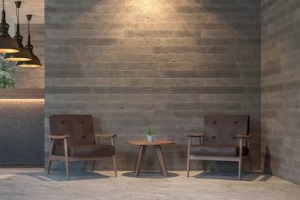 Another easy but effective option for reducing noise in restaurants is adding texture. As mentioned previously, noise bounces best off of hard, flat objects. By removing those smooth surfaces and adding some texture, the sound waves cannot reflect as effectively.
Custom wall coverings are a simple way to achieve this effect without tearing down entire walls. You can purchase custom wall coverings that look just like natural, granular stone or even wood, which contributes its own pleasing aesthetic.
5. Don't Forget the Ceiling
One of the most overlooked spaces in a restaurant is above guests' heads. All of the open space up near the ceiling is an echo chamber just waiting to reflect noise back into the restaurant. The good news is that you can hang acoustic panels or other installations from the ceiling that not only look pleasing but also reduce this reverberation. Even gently draped cloth covering the ceiling's hard surfaces can work wonders.
6. Create Distance Between Noise Sources and Guests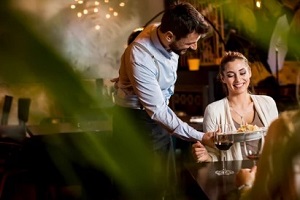 It may seem simple enough, but creating distance between the origin point of a noise and where guests perceive it is critical. If the kitchen is your main source of noise, consider adding a door or sectioning off the area—even with clear panels if an open kitchen that guests can watch is part of your vision. If your HVAC system causes a ruckus, can you disguise it within an artistic installation? Be creative in the ways you can block off sections of the restaurant that are loud so that the noise does not escape.
Get Your Noise Reduction Equipment from the Pros
The right noise reduction strategy for your space will be just as one-of-a-kind as your restaurant is. However, most eateries choose most or all of the above options to cut down on echoes and make their dining area as comfortable as possible. Be sure that any items you purchase for noise reduction are high-quality and will stand the test of time.
Tree Towns is proud to offer the best in acoustic art and custom wall coverings to help you meet your sound goals in your restaurant. Reach out to learn more or to get started with an order.