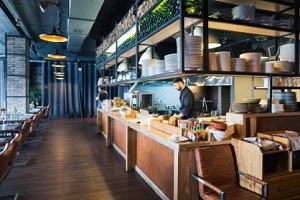 The success of a restaurant is not solely dependent on the cooking of great food. Customers come into restaurants for a complete dining experience that starts before they receive the menu and ends after they conclude dessert.
The quality of the furniture, the demeanor of the waitstaff, the architecture of the building, and the aesthetics of the interior all influence how a customer will enjoy their visit.
One of the most important factors of a dining experience is the noise. Customers will want to hear their dining partners and the restaurant music without being overwhelmed by other sounds around them.
Restaurateurs may worry that they lack control over the acoustic experience because they cannot change how the building is built, but with artistic acoustic paneling designed to drown out unwanted sounds while maintaining a beautiful interior design, audio improvement is within reach.
Here is what restaurants need to know about acoustic art paneling solutions for open space dining areas.
What Are Acoustic Panels and How Do They Work?
The concept behind acoustic paneling is simple. The panels are built with industry-specific insulation that manages the reverberations of sound waves.
Dampening these sound waves by absorbing them limits the effects of even the most subtle echoes and prevents noises from passing between spaces. It is the same basic principle behind soundproofing recording studios, but acoustic panels for restaurants offer opportunities for artistic flair and visual texture as well.
Why Does a Restaurant Need Acoustic Panels?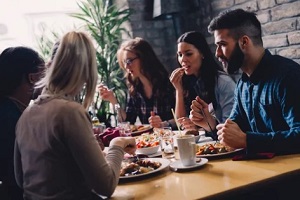 No matter what type of restaurant customers visit, there will inevitably be a lot of noise. Many loud activities go on in a restaurant that could distract people from their meals.
The kitchen is just one example — impressive kitchens work to be as efficient and coordinated as possible, but no matter how organized they are, there will be residual unexpected sounds. Timers beeping, pots and pans clanking, and chefs communicating over the sounds of sizzling and smoking are largely unavoidable.
Insulating the sounds of a kitchen, usually a wall away from the dining area, may seem relatively easy—but reality may prove otherwise. The door to the kitchen probably opens frequently, a window to post orders stays open, and the dividing wall may be thinner than expected.
There are many other sounds that originate in the dining area itself. The HVAC system overhead might run loudly in the depths of winter or summer. The cutlery and dishes can clatter as the servers bring them out.
Perhaps the most consistent sources of noise are the customers themselves, whose preferred dining experiences (and volumes) might conflict with each other. It is the restaurant's job to accommodate all these customers, often at the same time.
Acoustic panels offer solutions to each of these problems. Paneling on the walls diffuses sounds from inside a room, quieting the sounds from the kitchen and preventing echoes on one side of the room from bouncing over to the other.
Paneling on the ceiling can increase this effect while also altering the acoustic architecture of unfinished ceilings. Most impressive of all, thin paneling between booths in restaurants makes it easier for customers to converse freely without distracting their neighboring patrons or being distracted themselves.
Acoustic Paneling Designed as Works of Art
The benefits of acoustic paneling do not end with sound-based concerns—they continue into the aesthetic of the space. Because of the simple science behind these panels, it is easy for professionals to custom-create panels that contribute to the visual sensibilities of the restaurant.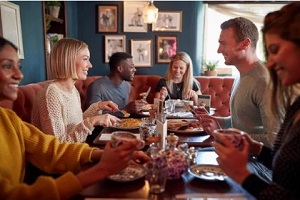 Wall hangings like canvas prints make excellent noise dampeners (what might happen if you print your stylized menu on an acoustic art panel?). Panels on the ceiling, or even more ambitious baffle arrays, can have a certain modernist flair.
However, even single-color matte wall panels that wear their purpose on their sleeves can be visually captivating, with compelling geometric textures. No matter what kind of restaurant you own, there will be a classy way to incorporate acoustic paneling.
Try Acoustic Panels Crafted Specifically for Your Restaurant
Acoustic panels are not merely a protective measure—they are a chance to enhance the visual and auditory experience of a restaurant. They provide clarity of sound, both for the wellbeing of the staff and the enjoyment of the customers, which contributes to a positive association that keeps guests coming back.
Restaurateurs would be wise to embrace all that acoustic panels have to offer. The experts at Tree Towns are proud to custom craft acoustic art panels that suit the aesthetic and auditory needs of any restaurant space.
Contact us to discuss your vision or to get started on an order of customized acoustic art paneling so that your restaurant is a pleasant, quiet place to dine.